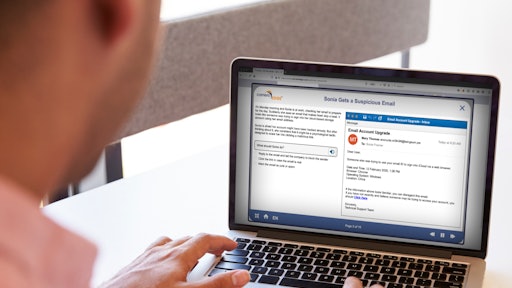 CarriersEdge
When the Coronavirus disease (COVID-19) hit, many facets of the supply chain experienced disruption. Restaurants closed, some permanently. Excess food went to waste. E-commerce boomed, further fueling the "Amazon Effect." And, the ever-present driver shortage gap transformed into an overall industry-wide labor shortage issue.
However, despite all of the hiccups and disruptions, trucks kept on truckin'.
In Food Logistics' August 2021 issue, editor-in-chief Marina Mayer talks with several industry experts about how the global 3PL market continues to play a pivotal role in how and why Americans receive essential goods in a safe and timely manner.
Here's an interview with Mark Murrell, president and co-founder of CarriersEdge, with excerpts publishing in Food Logistics' August 2021 issue. [CLICK HERE to read the article in full].
Food Logistics: When it comes to workforce development in the supply chain, what are some of the major challenges the cold food chain faces, ie. Driver shortage, aging Baby Boomers, foodservice sector facing staffing shortage and more?
Mark Murrell: The cold food chain faces many of the same issues as other transportation segments – aging workforce, lack of new people entering the industry and high turnover creating the perception of a labor shortage. On top of that, increasing traffic (outside of the COVID blip) adds pressure to delivery schedules and new technology requires continuous retooling and re-education of workers. Those two issues combine to squeeze companies in their efforts to stay current – new technology can help improve efficiency, but to take advantage of its workers need to be adequately trained and there's less and less time available to get that training to them.
Food Logistics: What are you seeing company's do to address or overcome these challenges?
Murrell: We're seeing companies tackle the issue in a couple of ways. First, by focusing on creating exceptional workplace cultures, they lower turnover and create a more attractive environment for new people coming into the industry. Second, they embrace online tools for communication, education and streamlining of workflow. Each of those is a lengthy discussion of its own, but they're tied together – engaging the workforce to find ways to improve efficiency, implementing online tools that support those efforts and continuing to optimize the process all help drivers make the most of their day while also moving the company forward.
Food Logistics: Why is it so important for companies to tap students entering the workforce?
Murrell: With an aging workforce, students are the key to the future. There are barely enough people in the industry to do the job now, and many of those workers have developed years of bad habits because the industry lacked tools to provide professional development and adequate oversight. As the job description changes to reflect new technology, regulations, and best practices, students are best positioned to take advantage of those changes and improve the overall efficiency of the company.
Food Logistics: Furthermore, what should companies be doing to recruit new talent as well as train existing employees?
Murrell: Companies should focus on expanding their diversity efforts. The industry has traditionally hired from very specific segments of the population, but those segments are no longer sufficient in filling the need for new entrants. The industry as a whole needs to embrace diversity and inclusivity efforts in order to start attracting greater numbers of workers from non-traditional sources.
Food Logistics: How does the influx of automation and other technologies impact the future of workforce development in the supply chain industry? Meaning, how will it close the driver shortage gap, for example? How will it entice the younger workforce? Etc.
Murrell: These technologies stand to benefit the industry greatly. While a live body will still be required in the vehicle for security and oversight reasons (even after the truck starts driving itself), the requirements of the job should be reduced, lowering the barrier to entry for new workers. At the same time, the implementation of new technology should serve as an attracting force for younger workers who hadn't previously considered the industry as an option.
Food Logistics: What are some things not addressed above that may be pertinent to our readers?
Murrell: It's important to remember that workforce development isn't just about attracting and onboarding new hires or reskilling existing workers for new technology. It's also about helping workers to advance in their careers, which is a subject rarely discussed in the transportation sector. In other industries, workers routinely work their way up the ladder from junior to senior to expert and so on. In transportation, a driver is a driver. They may have 3 years of experience or 30, but in most cases, they still do the same work, have the same title, and earn the same base rate. Proper workforce development requires companies to have a plan for those senior and expert level drivers that reflects their experience and skill levels. That may mean using them more broadly as trainers and mentors, involving them in equipment spec'ing and delivery optimization, or moving them into non-driving roles. Regardless, it needs to be considered. Without that, companies are squandering a mountain of experience that could help them improve their operations and profitability as a result.
[CLICK HERE to read the article in full].