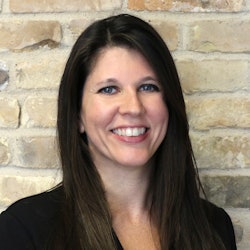 Content Director of IRONMARKETS; Editor-in-Chief, Supply Chain Network; Co-Founder of Women in Supply Chain Forum
Marina Mayer serves as Editor-in-Chief of Food Logistics and Supply & Demand Chain Executive, tasked with managing both brands, including print, digital, e-newsletter, social media, marketing campaigns, sales projects, webinars and more. Mayer establishes editorial direction of the brands; assigns, proofs and executes content; manages freelancers and expert columnists; presents at industry conferences; works alongside art, production, marketing and sales to help execute revenue-generating opportunities; and stays abreast of industry trends and technologies. Mayer is also the co-founder of the Women in Supply Chain Forum, manages the Supply Chain Network's seven awards, including Top Tech Startup, Top 3PL & Cold Storage Providers, Rock Stars of the Supply Chain, Top Software & Technology, Women in Supply Chain, Pros to Know and Top Supply Chain Projects, and helps oversee SCN Summit and Supply Chain Learning Center. In February 2022, she became Content Director of AC Business Media, overseeing content structure, organization and processes for additional ACBM brands, including For Construction Pros, Equipment Today, Pavement Maintenance & Reconstruction, Concrete Contractor, Asphalt Contractor, Rental Magazine, OEM Off-Highway, Green Industry Pros, SnowPro and IRONPROS.com.
Mayer is an experienced B2B journalist with 19 years in the B2B space; 13-plus years in the food and beverage space; and 11 of those years specifically in the supply chain and logistics space. She's moderated several panel discussions at various industry events, conferences and tradeshows, and has participated in webinars and podcasts discussing supply chain trends.
In July 2021, Mayer received an Honorary Mention by the Trade Association Business Publication International TABPI awards for her "Post-Pandemic Grocery Shopping" article, which published in Food Logistics' September 2020 issue.
Prior to joining Food Logistics and Supply & Demand Chain Executive on Jan. 6, 2020, she spent the last 10 years as editor-in-chief of Refrigerated & Frozen Foods magazine, a B2B publication that covered everything from packaging, food safety, new product development and market trends to energy management solutions, supply chain and logistics and more. During her time at Refrigerated & Frozen Foods, Mayer increased the number of e-newsletter subscribers by 52% over a 4-year period, while increasing deployment circulation from monthly to weekly. She increased website traffic by over 500% over a 4-year period, and won an internal company-wide SEO contest for the most backlinks to her brand's website. Mayer also developed the Best New Retail Products contest, which continued to rake in over 3,000% additional website traffic during the time the contest was live online.
Before joining Refrigerated & Frozen Foods, Mayer served as managing editor and executive editor of Snack Food & Wholesale Bakery and Dairy Foods magazines (both sister publications) for 3 years, where she was named an ASBPE Young Leader from the American Society of Business Publication Editors scholarship program. During this time, she also spearheaded the company-wide editorial internship program with Northwestern University's Medill School of Journalism to bring in summer interns to help with overflow of work while learning the ropes of B2B publishing. To date, two of those interns still remain with the company as full-time editors.
In December 2006, Mayer won Manager of the Year while working in the newly created role of quality control editor at Manufacturers' News, Inc., a position she held from 2005-2008. This is where she created and executed workflow processes to ensure accuracy of data and enhance internal productivity; revised training and style manuals and led ongoing orientation sessions. Mayer also designed sub-schedules and deadlines for different stages of editing, proofreading and Internet research.
Mayer graduated from Indiana University in 2002 with a Bachelor's of Arts journalism degree. While at IU, she completed an internship with Insider Magazine, and published a host of articles with IU's campus magazine, Indiana Daily Student.
Her areas of expertise include food, beverage, cannabis, pet food, packaging, supply chain and logistics, design-build, food safety, energy management, market trends, new product development and industry technologies (i.e. blockchain, AI, IoT, etc.). But, it doesn't stop there.
That's because Mayer thrives in building brands. From print to digital to social media and more, her tenacity to produce year-over-year growth continues with each B2B publication she's served. She also excels in developing—and maintaining—relationships with readers and advertisers, has presented at client sales meetings and industry events, such as IBIE's TIA Tech Conference and participated as a panelist for a Fancy Foods Show event.
Connect with Mayer at:
LinkedIn: https://www.linkedin.com/in/marinamayer/
Twitter: https://twitter.com/MarinaMayer