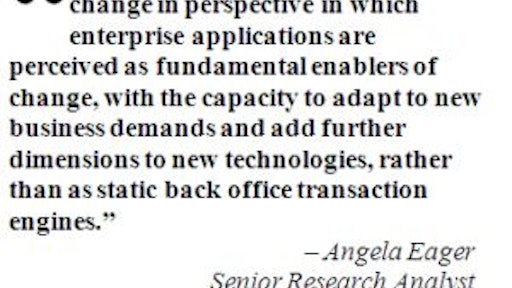 London — July 21, 2009 — When capital is in short supply, the pressure to optimize existing resources and assets intensifies. In the IT space, enterprise applications such as enterprise resource planning (ERP) and customer relationship management (CRM) are prime targets.

A new report by European IT research and advisory organization Butler Group points to the strategic importance of these applications in terms of running businesses efficiently and effectively, and how changes in the way they are architected, delivered, and used are altering the entire application value proposition and lifecycle.

Titled "Evolving Enterprise Applications", the report says there is a tendency to focus on cutting costs. It argues that cost reduction and value generation are two sides of the same bottom line, and so they should be tackled together as part of a unified strategy with savings in one area being used to fund smart investments in another.

"Cost cutting is a natural reaction to a tough economic climate; so is freezing budgets and halting additional expenditure. But these actions can be counterproductive if they are carried out in a siloed fashion with little attention paid to long-term and strategic implications," said Angela Eager, senior research analyst at Butler Group and the report's lead author. "Challenging times are times of change, but change also brings opportunity and that means taking a fresh view of what is being done, why and how, and being prepared to adapt both business operations and applications."

Apps as Enablers of Change

"Enterprise applications form part of the DNA of an organization and are core to its ability to do business but that integral status means they are often overlooked," Eager said. "They impact so many areas of the business that they become almost invisible. As a result when it comes to developing value-generating initiatives they are back of mind, yet no new initiative can be fully effective if the core it relies on is not tuned."

Eager said that organizations will benefit from a change in perspective in which enterprise applications are perceived as fundamental enablers of change, with the capacity to adapt to new business demands and add further dimensions to new technologies, rather than as static back office transaction engines.

Several technology changes are playing a part in opening enterprise applications up, changing the way they are used, and enabling them to be used for more. These include the move to service oriented architecture (SOA) that brings modularity and therefore technical and business agility, as well as increased use of business process management (BPM) capabilities to enable enterprise-wide process standardization.

In addition, embedded business intelligence (BI) is being leveraged to gain "actionable insight," and participatory Web 2.0-type technologies are being deployed for collaboration and real-time interaction. "Each technology would be so much less without the enterprise application DNA structure. However, for this transformation to be effective, closer alignment between business and IT is a prerequisite," Butler Group said.

Strategic Spending Necessary

Maintaining the value of existing assets can be achieved through internal optimization — opting for standardization over customization, general license and user housekeeping, upgrade and maintenance strategies, and so on. In addition to reducing operational costs, this also will improve operational efficiency with minimal investment and prevent investments falling into the application equivalent of negative equity.

Yet strategic investment in application extensions at the micro-level is also a requirement: for example, investing in functionality that reduces waste in production planning by a few percentage points can deliver substantial direct financial returns. "Existing implementations are the perfect platform to deliver these sorts of micro-based incremental benefits, rapidly, with minimal risk and in a cost efficient manner," said Eager.

The economic climate has highlighted the need for business agility, and as agility is ultimately enabled by the supporting IT and application infrastructure, the situation is playing well to the software-as-a-service (SaaS) movement. This alternative delivery method offers flexibility and cost efficiency, providing the essentials to enable organizations to bring about change in the way they carry out their business.

With the advent of development platforms, SaaS no longer means having to take what you are given, and with an architecture built for the Web and for integration, it provides a valuable adjunct to organizations looking for application technology to support business development, Butler Group concluded.