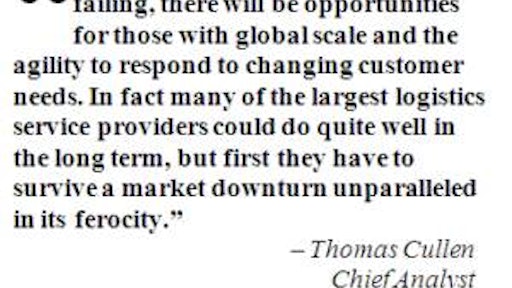 London — July 16, 2009 — Despite the catastrophic meltdown the global automotive market has endured, opportunities exist for logistics companies that can react fast enough to a savage rationalization of the auto industry, according to a new report from industry research firm
Transport Intelligence (Ti)
.
The automotive logistics industry has endured a catastrophic meltdown in volumes over the past year, Ti notes in the report, "Global Automotive Logistics 2009." Logistics companies are struggling to deal with the consequences of a slump in production and sales, and many — especially in the finished vehicle logistics market — have gone out of business.
According to analysis in the report, the next year will be critical for logistics companies to come to terms with the systemic restructuring that the industry is undergoing. The report's author, Thomas Cullen, a chief analyst with Ti, says it will be essential for major logistics companies to ensure that they choose the right markets and partner with the vehicle manufacturing stars of the industry rather than those mortally wounded by the downturn.
"The financial crisis has accelerated a root-and-branch restructuring that has serious implications for the automotive logistics industry," Cullen says. "Although many providers are failing, there will be opportunities for those with global scale and the agility to respond to changing customer needs. In fact many of the largest logistics service providers could do quite well in the long term, but first they have to survive a market downturn unparalleled in its ferocity."
Mixed Markets
The report highlights the state of the U.S. market, in which General Motors and Chrysler have been bankrupted and Ford's production capacity severely compromised. In contrast, Hyundai, Volkswagen and Daimler are opening new plants, and Toyota, Nissan and Honda are likely to expand production at existing facilities.
This will mean that while traditional car-making regions such as Detroit undergo savage rationalization, new ones, such as southern states of America, will boom.
In Europe, the market is still very fragmented, although there are no signs that there will be consolidation any time soon. However, the German powerhouse producers in particular will have to migrate from their existing locations in Western Europe to lower cost production locations in the east of the region.
Looking beyond China's inevitable rise to becoming one of the world's dominant car markets, there also is a huge degree of excitement about other developing countries. India is growing fast and has enormous potential as a consumer market. Thailand will become an important production location, as will South Africa, due to the fragmenting nature of the world's production footprint.
The "Global Automotive Logistics 2009" report is available at
http://www.transportintelligence.com/market-reports/report-global-automotive-logistics-2009/243/
, at a price of £995 (about $1,635).