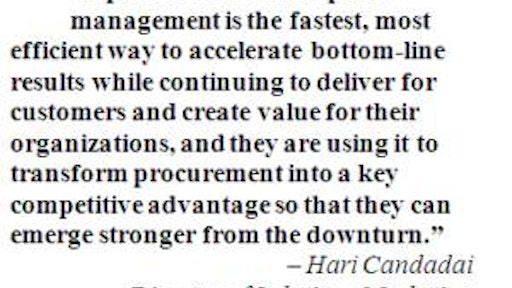 Sunnyvale, CA — July 17, 2009 — As the global economic crisis continues, all eyes are on spend management as companies of all sizes across industries are prioritizing strategies to minimize costs and risks while managing cash and performance in an effort to accelerate savings and drive long-term growth, asserts a recent report from spend management solution provider
Ariba
.
"As the global financial crisis wears on, leading organizations are elevating the strategic role of spend management and investing in the resources and processes needed to identify and realize savings now," said Hari Candadai, director of solutions marketing with Ariba and author of the Ariba report "The Return to Profitability: Spend Management Priorities to Accelerate Savings and Drive Long-Term Growth."
Adds Candadai, "Companies are realizing that the very real and near-term return on investment associated with spend management initiatives makes a compelling business case for action now, even in an environment where budgets are tight or frozen in most areas, as it is a question of survival to many."
To determine the spend management strategies that organizations are prioritizing to achieve these goals, Ariba recently polled more than 225 procurement, finance and business executives from across the more than 1,000 companies that make up its global customer base. Nearly 85 percent of the participants represented companies with more than $1 billion in annual revenue across the Americas, Europe, Asia Pacific/India and the Middle East/Africa.
What emerged, Ariba said, was a "clear and consistent set of objectives":
Identify Savings Opportunities Faster
— To cope with the down economy, companies are adopting new approaches to maximize savings and profits, including cutting costs, managing cash, mitigating supply risk and targeting new spend categories for reductions.
"Leading companies know that speed to cost savings and cash improvements is critical not only for near-term survival but for long-term competitive advantage," Candadai said. "As such, they are accelerating improvements in these areas by standardizing policies and procedures, automating the complete source-to-settle lifecycle and when necessary, using outside resources and expertise to generate results more quickly."
Increase Spend Under Management
— While many organizations have identified millions of dollars in savings in white-collar MRO and basic direct materials, a number have left certain categories untouched, including legal, marketing, professional services, employee benefits and IT. Now, they are capitalizing on the current economic conditions to go after these sacred cows.
"Several quarters of declining economic growth have made it possible for procurement organizations to target these formerly elusive categories and bring them under management," Candadai said. "By applying consistent and best-practice market diligence, costing, negotiation and compliance methods across categories, companies can maximize their spend leverage and drive greater value for their organizations."
Automate Procurement Processes
— An increasing number of companies are beginning to recognize that by automating time-intensive and costly paper-based processes, they can increase compliance with their spend management initiatives and accelerate the savings they deliver.
"More than half of all respondents to our survey indicated that automation is a top priority, and many are applying technology-based solutions to their sourcing, contracts, procure-to-pay and supplier management processes to cut sourcing cycle times, reduce administrative costs and speed time to market," Candadai noted.
Mitigate Risk and Manage Supplier Performance
— Concerns over ability to meet customer demand should a key supplier fail, reduced innovations and deteriorating quality and service from suppliers as a result of the recession have made risk and supplier performance management a top priority for all companies surveyed.
"A number of the organizations we polled are leveraging market intelligence and developing next-level supplier relations to effectively mitigate supply risk and will be well-positioned to emerge from the downturn with a competitive advantage," Candadai said.
Across the board, Ariba said, participants in the survey recognized that while they are under pressure to reduce costs, they must balance savings against the long-term stability of their supply chain.
"At the end of the day, the companies we polled realize that spend management is the fastest, most efficient way to accelerate bottom-line results while continuing to deliver for customers and create value for their organizations, and they are using it to transform procurement into a key competitive advantage so that they can emerge stronger from the downturn." Candadai said.
The Ariba report is available (registration required) at
www.ariba.com/go/profitability
.