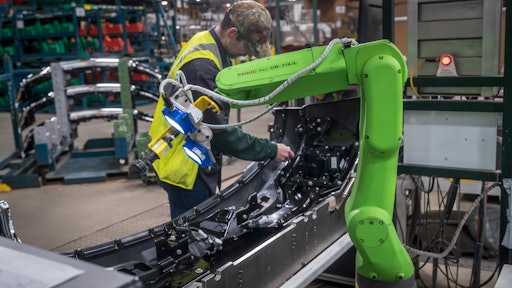 FANUC America
FANUC America and Rockwell Automation formed a coalition to kick off accelerated work and learn apprenticeship programs designed to upskill current and future workers for jobs in advanced manufacturing, robotics and automation.
The coalition includes APT, NOCTI Business Solutions and Franklin Apprenticeships, offering new apprenticeship programs for young professionals to gain credentials that include fundamental robotics (robot operator) and automation (PLC operator).
"Our No. 1 goal is to help create a worker pipeline that will not only help people increase their skills and future earning potential, but to help manufacturers achieve their production goals and maintain a thriving economy," says Paul Aiello, director of education, FANUC America. "In most cases, current and future workers can complete the apprenticeship skills training and achieve their industry-recognized certifications in less than one year. It's also important to note that these programs support all types of apprenticeship and certification models, including pre-apprenticeships."
"As industry adopts new technologies, it is vital to be able to quickly adapt with a well-trained workforce," says Michael Cook, director, Global Academic Organization, Rockwell Automation. "Having the most current standards will drive manufacturing competitiveness and simultaneously grow new talent to these new occupations, upskill current employees and allow companies to be more agile in their workforce planning."
From BusinessWire
The apprenticeship programs aim to help companies rapidly upskill employees at every level.

These programs will be valuable for engineers working to implement new automation systems and processes that require new employees trained in the latest automation technologies.
Companies in this article