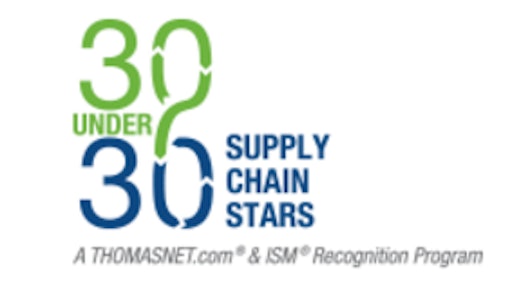 From Amy Georgi, who dramatically improved lead time and reduced on-hand inventory all while working remotely for Fluke Electronics, to Chinedum Nweze, who was instrumental in reducing costs, waste and parts consumption for John Deere, young supply chain professionals are making an impact. To spotlight additional emerging leaders, ThomasNet.com and the Institute for Supply Management (ISM) kicked off their third annual 30 Under 30 Rising Supply Chain Stars recognition program.
The organizations are building upon the success of the first two programs to help position supply chain careers as a rewarding choice for the millennial generation. The industry faces a looming talent shortage as the baby boomers who dominate supply chain management begin to retire.
"Creating a pipeline of young talent needs to be a top priority across the industry," explained Tom Derry, CEO, ISM. "By showcasing the talent, accomplishments and passion of our program's winners, we help build awareness and enthusiasm for the profession. We encourage everyone in supply chain management to nominate more deserving superstars for the program this year."
DuPont's Shelley Stuart, who nominated a member of the 2015 class, agrees. "The recognition of our rising supply chain stars is an important step in acknowledging the changing demographics of our profession. These young people are our future, and this acknowledgement is just the beginning of a lifetime of value creation and achievement for them and for the companies who employ them."
ThomasNet.com and ISM expanded the program globally to recognize 30 individuals who are 30 or younger, and whose initiative, collaboration, innovation and/or leadership are already bolstering the profession. Contributions to their companies, associations and the industry at large will all be considered.
To help the winners build on their accomplishments, each new rising star will receive complimentary membership in ISM for one year, so they can take advantage of educational and networking programs. ThomasNet.com will offer winners a Supplier Discovery and Evaluation lunch-and-learn session, customized for their organization and team. One megawatt professional from this year's group, along with his or her nominator, will also receive an all-expense paid trip to ISM2017 to be held May 21 through 24, 2017 in Orlando, Florida.
Individuals can nominate deserving young professionals by going to www.thomasnet.com/30under30. The deadline is December 1, 2016 at 11:59 p.m. All nominees must be 30 years of age or younger as of December 31, 2016.
Companies in this article