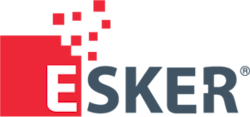 1212 Deming Way
Suite 350
Madison, WI 53717
Esker is a global provider of document process automation solutions and services. Addressing all types of business processes from accounts payable and accounts receivable to sales order processing and procurement, Esker cloud computing solutions enable companies to automate the reception, processing and sending of any business document with one platform. Esker helps over 80,000 companies across the world to reduce the use of paper and eliminate manual processes while improving their productivity, efficiency and environmental impact.
Request More Information
Fill out the form below to request more information about
Esker Inc.