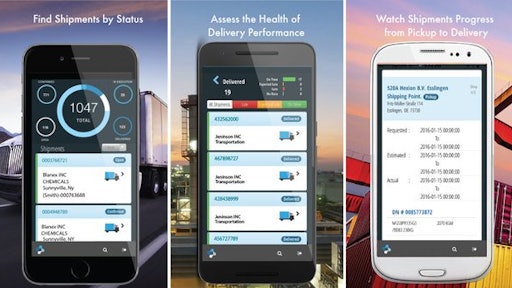 Wayne, PA—Feb. 22, 2016—Elemica, a supply chain operating network for the process industries, introduces Elemica Track, a mobile application that provides visibility into shipments transacting through Elemica's Enhanced Transport Visibility solution. Users can monitor shipments from anywhere, identifying where they are in the execution process, with access to detailed information for shipments that need attention.
"All of our customers are seeking the same level of shipment visibility that they have grown to expect in the business-to-consumer (B2C) world," said Cindi Hane, vice president of logistics management at Elemica. "Giving them access to high-quality data about current shipments enables them to manage by exception and address customer inquiries efficiently."
Elemica Track gathers rich, quality data from across the network and presents it on mobile devices in an easy-to-view, easy-to-use format. Users can search for shipments by status—whether open, confirmed, in transit or delivered—by order numbers or company name. The application provides simple navigation for shipments as users can easily swipe through pickup and delivery stops, see products and quantities in transit, watch shipments progression, and specify a desired timeframe from one week to months out.
"There's been an uptick in the development of new supply chain mobile applications over the past year, coinciding with the growing need for supply chain professionals to have anytime, anywhere visibility to supply chain activities in order to make smarter decisions faster," said Adrian Gonzalez, president of Adelante SCM. "Elemica Track helps transportation professionals, without being tethered to their office computer, answer the number one question they get from customers—where's my shipment?—as well as address exceptions and disruptions in a more timely manner, which ultimately results in lower costs and improved customer service."
Elemica Mobile Track provides:
Anytime, anywhere access to valuable information.
Visibility of shipments tendered, but not accepted.
Highlighted expected late shipments.
Intuitive navigation of shipment list by status.
Stop-by-stop shipment information.
Filtering of shipments by reference number, shipper or carrier.
Current Elemica customers using Enhanced Transport Visibility can download Elemica Track via Google Play and Apple iTunes. Enhanced Transport Visibility enables proactive alerts and data visualization tools to complement Elemica's automation and collaboration solutions for transport execution. Combined with Elemica Track, customers have complete visibility into shipments to power the real-time responses to market events that lead to better business outcomes.
Companies in this article
Request More Information
Fill out the form below to request more information about
Gaining Supply Chain Visibility Saves Millions, while Improving Customer Satisfaction