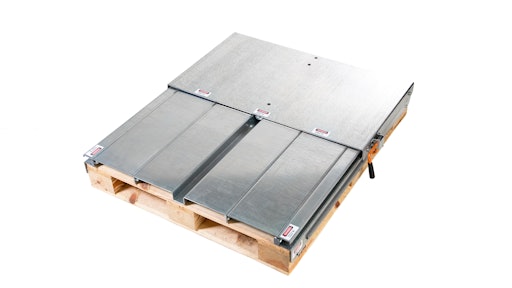 Lakewood, NJ—Nov. 11, 2015—UNEX Manufacturing, Inc., a provider of innovative order-picking solutions, announced Pick-Plank, a mechanical order-picking device that affixes to a pallet and converts each pick slot from a static to a dynamic storage position, allowing all items on a pallet to be accessible from the aisle. It is suitable for case picking less than full pallet from a man-aboard order picker, eliminating the need for the picker to have to reach or crawl into the storage position. The UNEX Pick-Plank improves space utilization in the warehouse, provides a safe and ergonomic pick, and increases pick rates.
"Prior to Pick-Plank, workers were required to work inside the storage structure, making them reach and bend to pick items, causing stress and strain on the picker's body," said Brian Neuwirth, vice president of sales and marketing at UNEX Manufacturing, Inc. "Because the picker doesn't have to climb inside the storage structure to reach items at the back of the structure, picking rates are improved and vertical space between shelves in the storage unit is at a minimal, allowing you to save space within your warehouse."
The Pick-Plank is made of industrial steel to hold up to 1,200 pounds. Once items in the front are picked, the worker unlocks the guide and easily slides the back half of the pallet to the front position, moving all products to the front of the aisle, making for a quicker and easier pick procedure.
Other features and benefits of the Pick-Plank solution include:
Retrofits to any standard Grocery Manufacturers of America (GMA) pallet so it easily installs on most pallets in your warehouse.
A solid-surface carrier that allows typically un-conveyable items (due to packaging, shape and size) to be carried.
A locking, self-contained pull bar that stabilizes loads during transportation.
A movable carrier that permits the rear half of the load to move to the front, allowing workers to pick products more ergonomically with minimal reach, which eliminates the need for entry clearance and maximizes storage density.
A roller bearing carrier slide that pulls items forward with gentle force.
Companies in this article