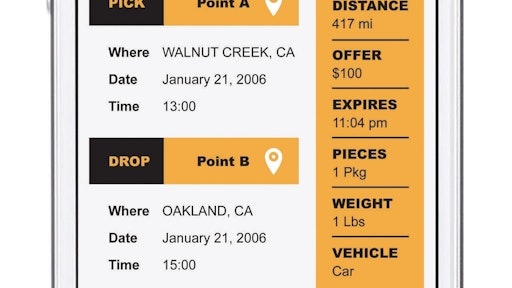 Progistics Distribution, a last-mile distribution and logistics company, announced the launch of eDEMAND, a web app that provides businesses with same-day and on-demand delivery services anywhere within a 200-mile radius of the major metro areas served by Progistics.
eDEMAND is the result of combining over 30 years of experience in distribution and logistics with mobile technology. eDEMAND enables Progistics Distribution to tap into its network of over 700 professional drivers, connecting them via their mobile devices to enable communication between businesses, drivers and brokers.
eDEMAND, powered by Progistics, provides an interface that shortens the last mile, optimizing the process of planning and routing operations (such as time constraints, vehicle constraints, driver rules and customer requirements). With eDEMAND, Progistics can provide same-day and on-demand deliveries to retail, e-commerce, small package and bulk shipment companies.
"People don't realize how challenging logistics really is and how complex the process of last-mile delivery should be when done right," said Joel Ritch, CEO, Progistics Distribution. "That's why we are seeing so many failing delivery startups. The tech venture capitalists and startup companies underestimated the resources needed in building a successful logistics-driven business from the ground up."
Ritch continued, "Sure technology is the foundation of the on-demand evolution, but without proven logistics experience to balance the technology, solutions are only half-baked or worse. That's why we are rolling out eDEMAND—to deliver a complete solution that is built on our 30 years of distribution and logistics experience. eDEMAND will help us take advantage of the demand we've already been seeing, which will exceed 1.2 million deliveries this year."
According to the Council of Supply Chain Management Professionals, as much as 28 percent of all transportation costs occur in the last mile. The eDEMAND solution helps reduce the expense and complexity of last-mile deliveries—making the connection between professional drivers and those in need of same-day delivery services more efficient. Additional eDEMAND features include: real-time order tracking, live customer support, digital signature capture and delivery verification.
"Our customers come to us because of our experience in logistics and distribution," said Jamie Myers, senior vice president of customer relations, Progistics Distribution. "An added benefit is the eDEMAND web app that makes same-day delivery more efficient and cost-effective. Our customers are telling us that using eDEMAND has helped them respond more quickly to the demands of their customers, and is saving them time and money in the process."
eDEMAND services are now available to businesses in Chicago, Dallas, Las Vegas, Los Angeles, Oakland, Phoenix, Portland, San Francisco and Seattle.
Companies in this article
Request More Information
Fill out the form below to request more information about
Progistics Distribution Launches eDEMAND App to Shorten Last-Mile Delivery