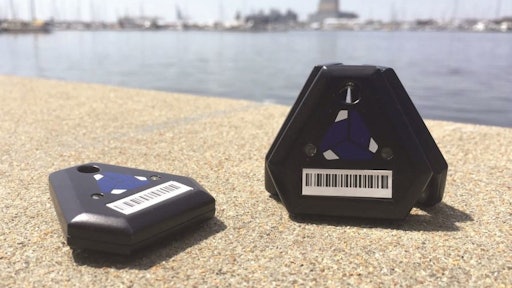 Barcoding Inc., a provider of supply chain efficiency, accuracy and connectivity, announced the launch of its Active Asset Tracker (AAT)™ solution. Leveraging the power of the Internet of Things (IoT) and Bluetooth low energy (BLE) beacons, the solution turns physical assets into sensors that provide enterprises with near real-time physical inventory visibility.
In combination with Barcoding's mobile AAT app (compatible with iOS and Android), the BLE beacons allow users to continuously and accurately track information about an asset's presence, temperature and movement. Once placed on tracked assets, the beacons communicate data every two seconds to smartphones over 150 feet away, even when inside a vehicle or container. From the mobile application, users can change an asset's state, such as en route to on site. The beacon's LED indicates this status to assist in asset identification.
Data transmitted from the beacon includes asset identification, signal strength, battery life, location, LED state, maximum/minimum/current temperature and more. Users can view this information from the AAT app's dashboard and even set up email alerts based on threshold exceptions. Easy to deploy and integrate with existing equipment, beacons come with serialized barcode labels to enable quick association with assets. Plus, beacons are powered by a button cell with a battery life of up to five years.
In certain applications, deploying AAT with BLE technology can be easier, faster and more cost-effective than using passive RFID technology. However, depending on the use case, Barcoding can deploy its AAT Solution in conjunction with its passive RFID system. This creates a hybrid system, using both technologies deployed in one application.
Tom O'Boyle, director of RFID at Barcoding Inc., said, "Asset tracking is an important function of any business, and enterprises are looking for ways to do so with maximum efficiency, accuracy and connectivity. Through Bluetooth low energy technology, our Active Asset Tracker system provides a flexible, cost-effective solution that identifies and locates hundreds of assets simultaneously. As a result, users always know the exact condition of their inventory and can make informed business decisions based on this information."
Barcoding's AAT Solution is ideal for enterprises of all sizes and across industries. All deployments are performed and supported by Barcoding's Professional Services division to ensure optimal integration and maximum uptime.
Companies in this article
Request More Information
Fill out the form below to request more information about
Barcoding Inc. Launches Active Asset Tracker Solution