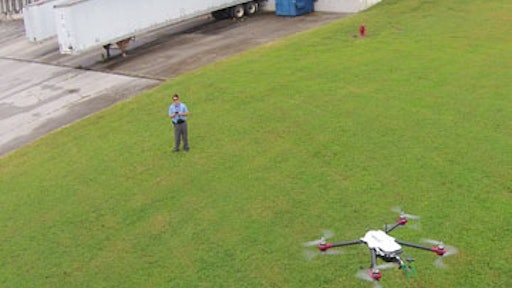 Chattanooga, TN—Nov. 6, 2015—Warehouse automation may soon take to the skies, as logistics provider Kenco teams up with PINC Solutions to explore the use of drones to manage warehouse systems and yard operations.
Kenco—a provider of integrated logistics solutions, real estate services and material handling equipment—is leveraging PINC's Advanced Yard Management platform to provide real-time asset tracking at a large facility in the Midwest. In addition, the two companies are exploring the potential to deploy drones for yard management at Kenco distribution facilities.
"Kenco wants to use drones for managing real-time data gathering in outside yard operations," said Kristi Montgomery, vice president, Kenco Innovation Labs. "PINC's patented real-time locating system (RTLS) sensor platform captures locations of assets and inventory, and can provide up-to-the-minute information that would allow Kenco to customize and segment yard operations based on customer needs and business rules."
Montgomery said Kenco sees tremendous opportunities for providing higher levels of customer service by integrating real-time data into existing systems.
Kenco recently implemented PINC's core yard management system (YMS) application for a customer in the durable goods industry. After a successful two-month pilot, the customer is installing the system across its U.S. network. Once PINC's drone solution is available, Kenco plans to partner with the company on its first drone-enabled site.
According to Matt Yearling, PINC's CEO, "By taking a holistic view, PINC can help Kenco gain even better insights into their business process execution, labor utilization, asset utilization and inventory management."
Companies in this article
Request More Information
Fill out the form below to request more information about
Kenco Explores Drone Technology in Deployment of Advanced PINC Yard Management System