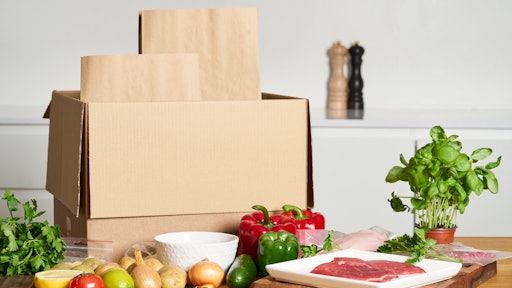 Anna - stock.adobe.com
Sustainability has become synonymous with the packaging industry these days. What started as a rare practice by only a handful of niche and forward-thinking companies has now became a global phenomenon.
2021 was the year of sustainability, as global markets witnessed surge in eco-friendly and smart packaging options from startups and brand owners. And, as we usher in 2022, expect sustainable packaging and circular economy to make deeper inroads across industries as a means to optimize resources, limit food waste and address packaging waste generation.
Leveraging sustainability to mitigate packaging waste will be the key area of focus among global packaging leaders. Expect to witness introduction of novel business models and practices developed around new packaging legislations in 2022.
Here's a deep dive into the prominent sustainable packaging trends and eco-friendly packaging best practices likely to play a critical role in shaping the future of the global packaging industry in 2022.
Sustainable packaging is needed more than ever in 2022
Let's face it, plastic is still an integral part of daily life. In fact, most retail store purchases and food items come in plastic packets, bags and boxes. So it's no wonder that around 9.2 billion tons of plastic is produced, of which only 9% is recycled properly every year.
Excessive packaging and extensive use of plastic packaging in e-commerce is further adding to plastic pollution. In 2021, containers and packaging from e-commerce made up a major portion of municipal solid waste (MSW), amounting to 82.2 million tons of generation (28.1% of total generation).
Developing nations are suffering the most from plastic pollution as their garbage collection and recycling system is almost non-existent. Developed economies have low recycling rates and are facing problem of collecting discarded plastic packaging.
As the world is recovering from the pandemic, now is the time for countries to reevaluate the recovery plans, reverse current trends and change consumption and production patterns toward sustainability.
Sustainability stands on the principles of doing more with less. It promotes economic growth without environmental degradation. New sustainability trends and practices in packaging will not only improve resource efficiency but also aid in smooth transition towards a carbon negative greener tomorrow.
Click here to hear more about sustainability in food packaging:
The biggest packaging trends to boost sustainability in 2022
Consumers are keeping a close eye on their favorite brand's sustainability efforts in packaging waste management. Companies are bending over while developing novel packaging solutions to satisfy consumer needs and maintain brand loyalty.
New regulatory laws associated with circular economy are in the cards for 2022. This will require companies to devise policies in compliance with these new sets of instructions.
As we enter 2022, let's investigate the top trends in sustainability packaging anticipated to become big in 2022.
Minimalism is the way forward. Minimalist packaging is set to take off in 2022. As customers are becoming more conscious and concerned about their packaging waste, companies are offering novel sustainable packaging options.
Minimalist packaging simply means stripping down packaging to its bare essentials without compromising in its functionality. Minimalist packaging checks out all the boxes of sustainability. It reduces raw material consumption and eliminates waste without compromising the durability or function of the package.
Minimalist packaging catches consumer's attention through its simplicity and effectiveness in design. Consumers are demanding clean packaging designs as it helps them focus on the product rather than the packaging aesthetics.
Companies are already planning to employ minimalist packaging and printing on their products to deliver a clear and understandable brand message. With growing consumer support towards reused and recycled packaging, minimal packaging approach will emerge as the top trend for 2022.
Bio-plastic material making headway in food and beverage packaging. As major brands show greater preference toward recycled plastic in their packaging, experts believe that the global consumption of disposable plastics will decline significantly in next five years.
Companies are pouring investments in next generation of packaging materials development to cope with the changing public attitude towards plastic consumption and waste. Bio-plastics are one such next gen packaging material set to take the center stage in 2022.
Bio-plastic is a bio-based plastic material made from cellulose found in sugarcane and starch. Safely and securely storing packaging sensitive food and beverages, this development is especially significant, as it is typically effective in storing and transporting perishable food items.
Bio-plastics mimic the beneficial qualities of conventional plastic such as barrier properties, durability, shelf stability, etc. with one key difference, i.e. these materials are fully compostable.
As world governments begin to implement the new declarations from COP26 climate conference, bio plastics will gain prominence in 2022. Packaging designers are looking to expand beyond food and beverage applications and with technological advancement, are taking significant strides toward effective utilization and production of bio plastics.
Anti-microbial packaging to address the global food waste issue. Out of all the new sustainable packaging trends and practices, antimicrobial packaging is anticipated to make waves in 2022. Consumer and business owners must take into account the spoiled product waste in order to achieve sustainability. According to Food and Agriculture Organization of United Nations, more than one-third of the world's food is wasted every year.
Antimicrobial packaging aids in minimizing product waste by preventing the growth of microorganism, killing harmful pathogens and extending shelf life of perishable food items. According to Future Market Insight's report, anti-microbial packaging solution is expected to reach a market value of $3.31 billion by 2031.
As the world suffers from depleting agriculture and other natural resources required to feed growing global population, antimicrobial packaging will become a stepping stone in reducing food loss and achieving overall sustainability. Some companies have already begun working on this technology.
Though promising, let's keep in mind that antimicrobial packaging is still in nascent stages of evolution and will require continuous development to improve efficacy.
Refillable packaging to strengthen zero waste initiative. Refillable packaging will gain mainstream appeal, as brands begins to introduce modern packaging options. Companies will offer their products in refillable lifetime containers, along with refilling options. This will be useful for smaller business, as it will direct customers to their brick-and-mortar stores for refilling.
This approach has proven successful with sanitizer, hand wash and liquid soap companies during the pandemic, which provided separate refill pouches with their refillable containers to limit viral outbreak and promote sustainability.
Refill packs consume less plastic and offer huge value for your buck, thus allowing consumers and the company to save money and help environment without compromising on the design. It will be interesting to see how businesses tackle the accessibility issue regarding refills and what measure will they take to make their refills readily available.
Gusseted bags: a sustainable solution for retail packaging. With the advent of eco-friendly packaging designs, gusseted bags will become more common in the market. Gusseted bags are an innovative sustainable packaging option as it allows customers to become a part of a larger environmental initiative.
Gusset bags are a lightweight bag with extra material on the sides, bottom or both, so it can be expanded while holding bulky items. For this reason, these bags are widely used in the packaging and storage of food products, especially dried food products.
While the main benefit for manufacturers moving to gusseted bag is low manufacturing cost, there is plethora of environmental benefits. These eco-friendly gusset bags being made from paper are lighter and smaller, which results in lighter and smaller packaging, reduced material and manufacturing costs and easier product transportation leading to reduction in greenhouse gas emissions at the production and transportation stage.
Parting thoughts
In 2022, expect a rise in taxes regarding use of disposable plastics and other materials and implementation of new laws promoting sustainability and circular economy. We must be vigilant and provide customers with user and eco-friendly packaging. By keeping a close eye on these particular trends, you can generate more business opportunities and improve your chance to increase brand value.
Adopt these trends at the earliest to gain competitive advantage and reap big profits. It's in best practice to understand what the current market dynamics is and what new options are available before planning to introduce new packaging solutions. This will aid us in gaining better perspective about sustainability and generate new ideas related to green packaging.