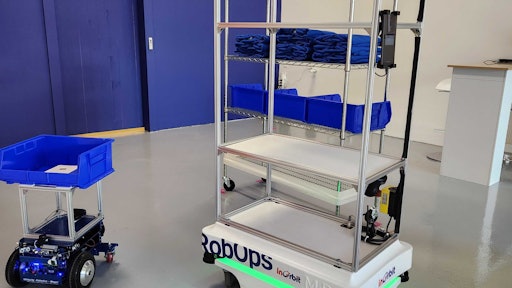 InOrbit
InOrbit Inc launched InOrbit Robot Space in Mountain View, Calif., a community space, product showroom and concept store that gives visitors the chance to see the industry's latest autonomous mobile robots (AMRs) in action and get hands-on with the InOrbit RobOps platform.
"Our goal is to demystify and raise awareness of the real-world application of robots," says Florian Pestoni, CEO and co-founder of InOrbit. "We're excited to exhibit robots from our partners like OTTO Motors and other industry leaders. This is a space for the robotics community at large to learn and advance the state of the art in robot operations. It's also a place for everyone else – from kids to older adults – to experience how robots can help with everyday chores."
From InOrbit:
Whether in person or remotely via multiple live-streaming cameras, decision makers can see robots from different vendors working together in the real world.

InOrbit

Robot Space also aims to educate the public on the role of modern robots in everyday life. Visitors to the concept store can experience first-hand how the latest robots use artificial intelligence (AI), sensors and software to intelligently navigate around obstacles to carry out their mission.