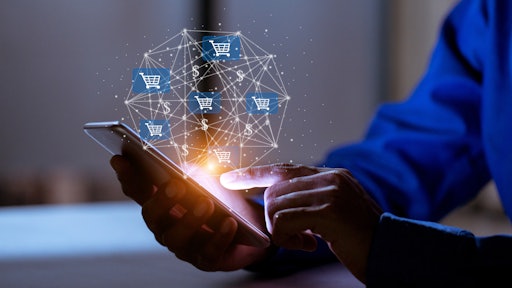 A Stockphoto/stock.adobe.com
E-fulfillment is the future of transportation. Consumers are shopping online now more than ever, meaning there's a higher likelihood they choose delivery to receive their items. Gone are the days of limited delivery options, as consumers can now pick down to the day when they'd like to receive their items.
As consumers continue to turn to eCommerce for their shopping necessities, retailers must respond to their expectations for quick, convenient delivery. For example, a majority 90% of consumers believe deliveries should take fewer than five business days. To acquire new customers and retain loyal ones, retailers must innovate and fine-tune their e-fulfillment processes. The key ways retailers can refine e-fulfillment is by providing convenience, having the right delivery partners in place and communicating the various delivery options to customers.
Provide Customers Convenience
To effectively manage e-fulfillment, retailers must position their inventory in the right places. Inventory optimization ensures that items can be delivered quickly and on time to consumers. It's important for retailers to evaluate the different processes involved in inventory management, given recent supply chain issues, including scarcity of raw materials and products, as well as labor shortages that can slow down the movement and transportation of items.
A retailer's initial steps towards improving inventory positioning involves understanding the movement on their inventory. For example, what items sell the most, and where are they located? How does this differ by city, or state? With this knowledge, retailers can then evaluate how to bring those items closer to the end consumer and deliver the item on time.
For example, fans may be in high demand in Southern states, where the weather is warmer, compared to Northern states. Stocking these fans in warehouses or stores in Southern states keeps the item closer to consumers, ensuring faster, more convenient deliveries. What's more, delivery is expensive, especially for larger, bulkier items: say, window units as compared to floor fans. Getting them closer to consumers can make delivery much more cost-effective for retailers.
Bring On the Right Partners
Retailers need to ensure they have a team who can execute e-fulfillment processes efficiently and meet their unique customer needs. For example, do customers want more insight into the location of their items during order processing? Do they want a notification when their delivery is en route? Do they want a professional, white-glove delivery? After identifying these unique traits, retailers can then look to a partner to elevate their operations.
Let's say a retailer is having trouble hiring delivery professionals with the right experience for last mile management. A delivery partner can provide the proper staff to assist with this. They can help retailers by already having a vetted team of delivery professionals who know best practices for successful last mile delivery execution. This can include how to handle particular items, knowing how to communicate with customers, if necessary, and ensuring on-time deliveries.
Today, customers can and should have access to features such as tracking their deliveries down to the hour or even minute. A resourceful partner that manages these delivery features can save retailers time and resources to allocate to other priorities – whether it's with the right technology, delivery partner or both. As well, it will save customers the disappointment of not receiving their item at the expected time.
Communicate What's Possible
Retailers must communicate with customers what to expect from the delivery process and any inventory changes. Notably, this should include informing them what items are in stock, what isn't available and where to locate them. Supply chain issues, particularly its impact on inventory shortages, have made it even more important that retailers share this information with their customers. If customer expectations aren't met, a retailer might wind up losing them altogether.
On the flip side, sharing what items are available and where can help set delivery expectations for customers. For example, if a customer is purchasing a new couch and sees that it is available in a store location or warehouse close to them, communicating their delivery options and any fees gives them a clear understanding of what to anticipate from their purchase.
All customers want to know when to expect the item they ordered. They should have visibility into every step of the delivery process, as communication is the basis of brand trust and loyalty. Once they know what to expect from a retailer, the same quality and transparency can be expected with each purchase.
Hone Into E-Fulfillment Strategy
Online retailers like Amazon have set the bar high for eCommerce shopping and delivery experiences. As a result, there's a constant expectation of fast or even same-day delivery options. But quick delivery doesn't always mean the best quality or provide customers with everything they expect from a delivery. That's why despite the heightened expectations around fast delivery, retailers must also provide high-quality, consistent deliveries to retain and acquire loyal customers. Retailers must hone their e-fulfillment strategy holistically and leverage existing aspects that provide their customers the best service possible.