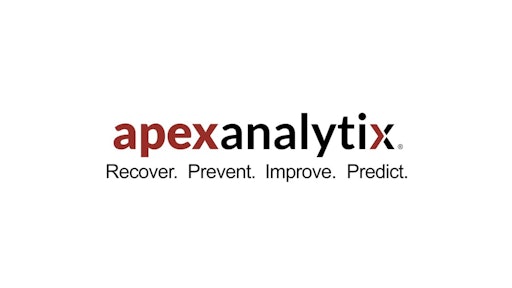 Greensboro, NC—March 24, 2016—APEX Analytix LLC, a company that specializes in auditing, recovering and optimizing profit in businesses' global financial supply chain, released details regarding the company's 2015 results.
"Global increases in new client acquisition drove record results in our international operations, our software-as-a-service revenue growth and in our core accounts payable (AP) recovery audit services," stated CEO Steve Yurko. "Our technology and audit process innovation accelerated value to our global recovery audit clients, and drove increasing market adoption of our enhanced FirstStrike suite of applications. Most importantly, our associates around the world made those things happen by living our corporate values that call for improvement in ourselves, our communities and in our solutions that ultimately drive improvement for our clients."
Among the many factors contributing to a year of strong results were innovative new solutions leveraging the company's core service expertise and existing technology solutions. "We are already the No. 1 provider of AP audit services to the Global 1000, and as a fundamental part of our service delivery, we regularly communicate with more suppliers than any company in the industry," stated Danny Thompson, vice president of product management. "Because of this communication, we are able to dramatically speed up and maximize the time to benefit of our new FirstStrike Portal and vendor enrichment offerings."
Growing the Core and Gaining Momentum in New Markets
While AP recovery auditing services and the FirstStrike AP suite of software solutions continued to comprise a significant portion of new Fortune 1000 relationships and contracts in 2015, APEX also gained footholds in new markets.
The FirstStrike® Supplier Portal™ suite was enhanced with advanced features, including the addition of 17 languages, which allow customers to communicate more effectively with suppliers in the increasingly global financial supply chain. Capabilities in supplier registration and dynamic discounting modules were also added. These included a new rules engine to segment suppliers and offers based on the probability of early-payment acceptance in exchange for supplier discounts. Other innovations provided a new operations workbench for easy discount management and forecasting tools with enhanced features, offering new ways for suppliers to manage their own cash needs.
APEX Analytix also increased supplier response rates and accelerated recoveries for AP audit clients through a number of 2015 product enhancements, including:
The FirstStrike® Core Bulk Mailer that was developed to enable multiple virtual machines to scale as necessary to better process thousands of supplier responses to requests made during AP audits. It identifies emails, accepts images and formats for viewing, and attaches them to a specific claim based on a barcode, ultimately sending emails and updating claim status.
An automated telephone-call system with pre-recorded messages, which was developed as part of an APEX supplier outreach program. Calls are initiated based on client project rules and schedules, offering yet another level of control.
Software services that automatically look up supplier contacts and telephone numbers across APEX systems and external service providers when clients provide none.
Global 1000 Businesses Adopt APEX AP Audit Services and FirstStrike Technology
Building on a strong base of technology-enabled audit services, APEX experienced strong year-over-year growth in the Global 1000 marketplace.
2015 brought APEX many new Global 1000 logos and relationship renewals with long-standing client partners, while also adding new projects with global clients. Of the engagements contracted in 2015, one-fourth were technology projects. Projects signed by companies with revenues of more than $50 billion annually increased by 50 percent, representing nearly a quarter of APEX's total 2015 projects. In addition, APEX continued to grow its presence internationally, with nearly 20 percent of new projects attributed to international companies and/or international divisions.
Among the most impressive new engagements are a top-three global private food conglomerate and one of the world's largest metal manufacturers. APEX remained strong in the technology sector, adding projects in technology/electronics and pharmaceuticals/biotech, while onboarding new industries that included retail/convenience, telecommunications and construction. The industries comprising the largest percentage of new projects were manufacturing, technology, pharmaceutical and retail.
"We're serving the most powerful and successful organizations in the world," stated senior vice president of sales Derek Binnicker. "That's a reflection on the commitment of our associates in field audit, statement and recovery functions, our R&D team and our FirstStrike consulting team. All are focused on the client's best interest, quality in our solutions and exceptional service delivery."
Exemplifying APEX Values Internally and in Charitable Giving
"When I look back at 2015, charitable giving, healthy living and embracing diversity are themes that resonated throughout the year," said Lori Engebritson, vice president of human resources.
APEX Analytix and its associates contributed more hours and provided more financial support to charitable organizations than at any time in the company's history. The United Way, American Cancer Society and Habitat for Humanity were all supported by the company's associates. Additionally, the company participated in several events with clients, and independently, that support research and care for multiple sclerosis, muscular dystrophy, under-served youth in our largest cities, the Make-A-Wish Foundation, St. Jude's Children's Hospital, community outreach programs for the homeless and special- care seniors, community food pantries, the UK Children's Hospital and the Teacher Supply Warehouse.
In 2015, APEX also saw an overall improvement in associate health metrics, as a result of a focused wellness program. Progress included increases in associate health screenings and improvement in the subsequent health metrics. "We continue to focus on wellness and giving our associates what they need to improve their overall health. We are very pleased with our collective improvement," said Engebritson.
As an organization dedicated to a diversified and improving workforce, APEX welcomed associates from Costa Rica, Belgium, the Czech Republic, the United Kingdom and Ireland. One quarter of the company's total workforce was promoted in 2015 and the annual mentor program had the highest involvement since inception.
Companies in this article