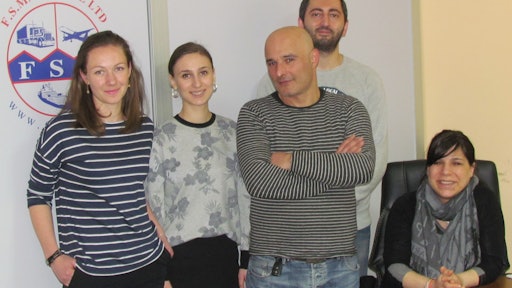 Basildon, UK—March 21, 2016—F.S. Mackenzie Group (FSM)—the UK and Russia member of the FPS Group network of independent forwarders and non-vessel-operating common carriers (NVOCCs)—opened a new office in Tbilisi, Georgia, to act as gateway for imports to the Caucasus region. It is the company's 17th branch.
Georgia is a former USSR state, with an area of 69,700 square kilometers, and a population of almost 5 million. In addition to its excellent rail connections to the central Asian countries of Kazakhstan, Turkmenistan and Uzbekistan, Georgia is also an important gateway and transit point for neighboring Azerbaijan and Armenia.
FSM has been active in the region for some years, commencing road freight operations into the Caucasus in 2009; since 2012, the business has grown further as a result of the launch of regular less-than-container load (LCL) services to Tbilisi, Yerevan and Baku via the Black Sea's largest ports of Poti and Batumi in Georgia, and Odessa (the major port of Ukraine).
The new FSM Tbilisi operation is now spearheading the launch of weekly inbound LCL services from a number of key ports in Asia, Europe and the USA, and is going to provide direct local control over its operations, which were previously managed through its Ukraine base. All containers are unloaded at the company's container freight station in Tbilisi, which then provides daily delivery throughout Georgia, and weekly transit services to Yerevan, Armenia and Baku, Azerbaijan.
In addition to LCL, the company is also offering road transport, airfreight forwarding, and outsized project forwarding by air and ocean, along with customs clearance in Georgia and Armenia, insurance, delivery to door, long- and short-term storage, unpacking, packing and repacking, and consolidation and on-forwarding of cargoes arriving from different origins for individual consignees. FSM operates its own bonded warehousing 30 kilometers from its central Tbilisi base.
Managing the F.S. Mackenzie Georgia office is Irakli Kublashvili as managing director. His career includes working for MSC (the world's second largest shipping line and the market leader in the Caucasus region), as well as middle and senior management posts at leading local freight-forwarding companies. He leads a team experienced in all aspects of the freight business, including projects and outsized cargo.
Says Kublashvili: "The opening of our own office in Tbilisi is our next step in developing international traffic for Georgia, Ukraine and the Caucasus. It provides us with much tighter control over our operations, ensuring the highest possible service standards.
"We will continue to invest in this region, with another office planned later in 2016. This will ease the flow of documentation and streamline operational processes with our strategic partners. Our aim is to establish FSM as the leading NVOCC for the region."