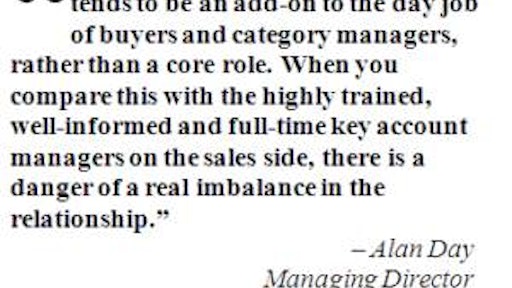 London — June 22, 2009 — Many organizations see supplier relationship management (SRM) as a process focused on monitoring the performance of their suppliers rather than as a collaborative, two-way relationship that can deliver value for both parties, according to a study released earlier this month by supply chain consultancy State of Flux.

The global survey of 223 procurement, supply chain and supplier relationship management executives found that almost two-thirds (62 percent) admitted that they did not have an accepted definition of SRM in their companies.

When asked about the topics most commonly discussed at review meetings with key suppliers, performance and service issues topped the list, followed by cost reduction opportunities. Business strategy and plans, new supplier products/services and value delivered came lower down the list, while customer performance — how easy the buying organization was to deal with — came last.

"Many organizations have confused supplier performance management (SPM) with supplier relationship management (SRM)," said Alan Day, managing director of U.K.-based State of Flux. "SPM is about getting what you have been promised in a contract, whereas SRM is about collaboratively driving value as part of a two-way relationship."

Day said that while good SPM yields both bottom-line savings and top-line competitive advantages that most organizations cannot afford to ignore, it is only one aspect of SRM. "Engaging proactively with your most strategic suppliers to capture innovation, jointly develop new products and services, improve the efficiency of your operations and speed up your time to market requires a much broader and more relationship based approach," he said.

Nine out of 10 respondents to the survey said SRM would grow in importance, but a significant number of procurement functions were ill-equipped to manage it effectively. Half admitted they were unable to measure the benefits, despite an intuitive belief that value was created through closer relations. Fifty-seven per cent acknowledged that the time they spent on SRM was insufficient, 47 percent had not trained staff in relationship management skills, and 53 percent did not have designated teams or account managers in place to deal with key suppliers.

"In practice, supplier relationship management tends to be an add-on to the day job of buyers and category managers, rather than a core role. When you compare this with the highly trained, well-informed and full-time key account managers on the sales side, there is a danger of a real imbalance in the relationship," said Day.

This was compounded by the fact that almost half of respondents (47 percent) said they were managing more than 25 supplier relationships, while 8 percent were managing over 200. This meant they had little time to devote to developing relationships or looking for ways to deliver benefits above and beyond incremental cost savings. Only 11 percent believed that existing technology strongly supported SRM.

On a positive note, the survey found that 28 percent of those organizations that were able to measure the value of SRM said it amounted to more than 3 percent of the total annual spend with key suppliers. As well as joint cost savings, the main benefits were reduced supply risks, greater supply chain efficiency and improved quality.

Almost half (47 percent) of respondents also reported that their SRM programs had sponsorship from C-level or other top executives, rather than senior or middle managers — a key ingredient in ensuring that such initiatives become part of the organizational culture and way of operating.

Some noted, both in their survey comments and in workshops held to discuss the findings, that CEOs, CFOs and other senior executives instinctively understood the value that could be derived from closer relationships with strategic suppliers and were giving it their personal attention. Such was their belief that formal SRM business cases were not always required.

"We found some impressive examples of successful supplier relationship management in action," said Day. "The fact that more organizations are recognizing the value that can be gained from SRM and embracing a different approach to working with key suppliers is encouraging. The challenge now is to turn these pockets of excellence into practices that are replicated more widely."

In March and April, State of Flux surveyed 223 procurement, supply chain and supplier relationship management executives across 15 industries and nine countries to understand how different organizations approach supplier relationship management (SRM), and specifically the business case for change.

Industries represented included manufacturing, financial services, oil and gas, IT services, fast-moving consumer goods and healthcare, and respondents were based in countries including the U.K./Europe, U.S., China, South Africa, Australia and New Zealand. In addition to the online survey, 15 cross-organization workshops were held to supplement the results and discuss key points arising from the survey.