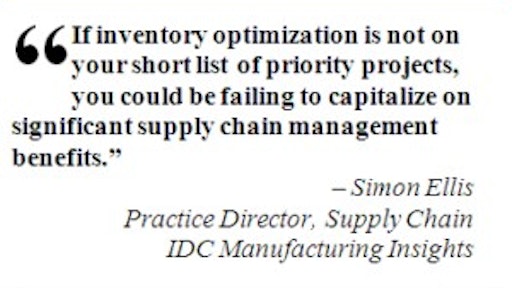 Framingham, MA — July 10, 2009 — Inventory optimization (IO) is now among the top three priorities for many supply chain organizations as they seek to create increased efficiencies during the continued global recession, according to a recent report from IDC Manufacturing Insights.
In the report, "The Modern Supply Chain: Inventory Optimization Competitive Assessment," the analyst firm predicts an increased focus over the next five years on supply chain modernization, network "rightsizing" and asset optimization.
The firm estimates healthy growth in global IO application spending in the 10 percent per annum range. This is ahead of the spending range for most supply chain management application categories, which is welcome news for solutions providers in this segment.
Solutions for the Times
"Dramatic changes in business are having an inevitable impact on a company's supply chain network," said Simon Ellis, IDC Manufacturing Insights practice director for supply chain. "Optimizing efficiencies in the supply chain — particularly inventory — has been propelled up the priority list for many companies. Increasing the productivity of assets has taken on more importance because of its direct relationship toward maximizing working capital and improving the bottom line."
IO applications are designed to plan inventory policy across multiple dependent echelons of a supply chain, in multiple planning periods. Essentially, they set inventory targets up and down the supply chain on a simultaneous basis. These applications can also provide the ability to create what-if quantification of the impact of certain business decisions on overall inventory management.
IO technology has increasingly been adopted and deployed by leading-edge companies. Decision processes such as overall sales, inventory, and operations planning (SI&OP), "profitable proximity" sourcing and new product innovation can all be aided by this technology.
Rapid ROI Potential
"If inventory optimization is not on your short list of priority projects, you could be failing to capitalize on significant supply chain management benefits," said Ellis, who previously served as "supply chain futurist" with the North American division of consumer products giant Unilever. Ellis co-authored the report with fellow analysts Kimberly Knickle and Pierfrancesco Manenti.
The cost of inventory optimization is variable, but a typical implementation should be expected to cost between $300,000 and $500,000 for software, plus implementation costs in the same range. The result can be meaningful savings: it's not unusual for these improvements to provide ROI within a year and result in an inventory reduction in a global supply chain of as much as 25 percent. While the results vary from company to company, given the current economic climate, the potential benefits are compelling.
According to the report, this market has been characterized by smaller, best-of-breed vendors, providing a wide range of solutions offering differing benefits. However, notable applications are increasingly available from the larger software vendors.
The IDC Manufacturing Insights report provides overviews of the market and an assessment of seven key application vendors that the analysts believe will shape the direction and overall adoption factors within this market. These types of assessments are intended to help IT and business executives review a short list of suppliers so as to initiate a technology buying-decision process.
More information on the report, which is available for purchase, is available at
www.idc.com/MI/getdoc.jsp?containerId=MI218001
.