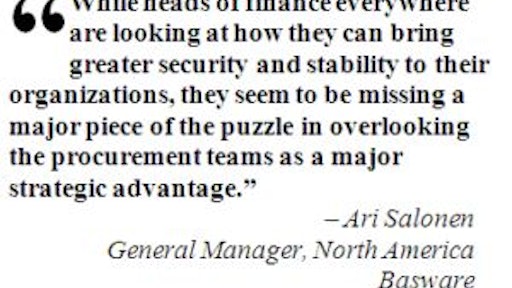 Stamford, CT — June 26, 2009 — Chief financial officers in organizations across the globe are shunning risk management in favor of cost cutting and are failing to treat supply chain dangers seriously enough, according to a recent study by purchase-to-pay solution provider
Basware
in conjunction with the
Kelley School of Business
in Indianapolis.
The current downturn is profoundly affecting businesses around the world, and Basware's global study, "The Cost of Control," investigates the issues affecting finance and procurement. An insight into the views of 550 financial directors and CFOs from organizations around the world, the research is supported in the U.S. by Mark Frohlich, associate professor of operations management at the Kelley School of Business.
Findings from the study reveal that in spite of a high-risk economic environment, CFOs are failing to recognize the importance of closely managing supply chains through Procurement, with just 28 percent of respondents to the study saying that they believe Procurement has a significant impact on financial risk exposure.
"Businesses today are defined by their supply chains, and some of the high profile business failures of the last 12 months point to this as a root cause," observed Professor Frohlich, who previously worked as a management consultant with Deloitte & Touche. "Finance departments across the globe have been guilty of ignoring the real value that their procurement teams can bring to the financial health of their organizations for decades now, so there is real truth to the suggestion that CFOs aren't making the most of what can be an invaluable asset in the fight against the recession."
The study finds that only 46 percent of financial chiefs see real integration between purchasing and finance processes, representing a major break between two departments that should be working closer than ever to combat the downturn. According to survey results, less than half of the respondents see any level of integration between procurement and finance teams.
"The fact that only 27 percent of CFOs consider that Procurement has a positive effect on enterprise profitability suggests that the procurement role itself and the wider supply chain is not seen as a significant contributor to bottom line performance," Frohlich said. "However, the companies in the study that take a more holistic, strategic approach realize higher performance."
Perhaps unsurprisingly, raw cost cutting was seen as a major priority for the CFOs questioned in the study, with 64 percent stating that bringing costs down was the top item on their agenda. At the same time, strategic goals seem to be taking a backseat for many, with only 39 percent believing that maintaining or improving margins was key. "It's interesting that more people are focused on cutting costs than the profitability of the organization," said Bob Cohen, Basware's marketing director in the U.S. "That was surprising."
Elsewhere, 39 percent cited risk analysis as a major concern for them. An unexpected finding, given the strategic emphasis in recent years on green sourcing and paperless offices, is that only 24 percent of respondents remained focused on environmental practices. "This shows that when things are going well, people are more interested in 'green,' but when things are much tighter, the green initiatives tend to fall by the wayside to some extent," Cohen said. "That's certainly telling."
Ari Salonen, Basware's general manager for North America, suggested that the results point to a "severe disconnect" between the finance and procurement departments. "There should be a sense of trepidation on both sides of the fence when reading the results of this study," Salonen said. "While heads of finance everywhere are looking at how they can bring greater security and stability to their organizations, they seem to be missing a major piece of the puzzle in overlooking the procurement teams as a major strategic advantage."
Salonen added that while procurement professionals will likely feel that their strategic value is being missed by their finance colleagues, Procurement is a vital function that can give a business the edge when times are economically tough. "There needs to be serious thought invested into why Procurement still isn't seen as a vital function," he said.
"The Cost of Control" also reveals that businesses are leaving significant levels of data and process "out in the wild," making accurate visibility of corporate accounting next to impossible. CFOs surveyed admitted that only 42 percent of indirect spending — such as marketing or consulting spend — was being captured by their organizations, and that only 50 percent of purchasing processes were automated, leaving major room for human error.
To help tackle the challenges identified in the study, Basware recommended a three-step plan for CFOs and procurement professionals:
1. It is vital that all organizations have 100 percent visibility of spend — both direct and indirect — across the business. Only once it has a single, unified view can a business make tough financial decisions.
2. Ensure that the right processes are in place to give precise control over who spends money and what they can buy, leading to improved business processes and capital management.
3. Only by working strategically can Finance and Procurement make the decisions that will benefit the business as a whole. The businesses that achieve transparency throughout the entire purchasing cycle will be best equipped to emerge from the current economic downturn in the best health, Basware said.
"Companies are very focused on the short term," Cohen added, "and the lack of integration between Procurement and Finance is alarming insofar as those companies ignore that relationship are putting themselves more at risk. Those that have more automation providing a better view of one another and that have better communication between one another have somewhat mitigated their risk."
"The Cost of Control" study is available (registration required) at
www.basware.com/control
.
The Cost of Control study was conducted for Basware by independent research company Loudhouse during May 2009. Results came from a range of businesses across the globe, with all respondents occupying CFO, financial director or equivalent level roles. The size of the organizations at which those surveyed are employed range from 1,000 to 50,000 employees.
Interviews were conducted to present a proportional picture from across the globe, with 100 respondents surveyed each in the U.S., U.K., Scandinavia and Germany, and with 50 responses each from Spain, Benelux and France completing the total of 550.
Professor Frohlich is associate professor of operations management at Indianapolis' Kelley School of Business. Focusing primarily on operations strategy, process improvement, program management and supply chain integration, Frohlich's teaching assignments have included the London Business School, Boston University's School of Management and Oxford University's Said Business School.
Founded in 1920 as the Indiana University School of Commerce and Finance, the Kelley School has grown into one of the most respected business schools in the world.