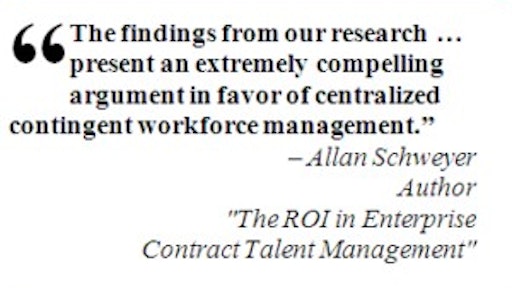 Washington, DC — October 15, 2009 — Organizations could achieve potential cost savings of 7-12 percent by moving away from decentralized contingent workforce management (CWM) toward a centralized CWM process, according to a new study released this week by the
Human Capital Institute
.
According to the research report, titled "The ROI in Enterprise Contract Talent Management," organizations that move toward enterprise-wide, centrally managed and technology-enabled CWM have the potential to realize significant, hard-dollar cost savings, as well as intangible benefits such as improved compliance risk, time savings and better reporting.
"The findings from our research … present an extremely compelling argument in favor of centralized contingent workforce management," writes Allan Schweyer, who authored the research for HCI. "Rarely is an independent research organization (such as HCI) able to make so clear cut a recommendation for or against a course of action."
HCI embarked on the research in May 2009 with support from co-sponsors
Allegis Group Services
,
Fieldglass
,
Guidant Group
,
IQNavigator
,
MBO Partners
and
TAPFIN Process Solutions
. The study, which examines whether and how organizations are realizing a return on their investments in centralized and contingent talent management, consisted of an HCI membership survey, interviews with industry professionals, and a review of secondary sources, including case studies.
"Strong Case" for Recommending CWM
"Based on these convincing research findings, we strongly recommend that organizations move toward enterprise-wide, centrally managed and technology-enabled CWM," said Carl Rhodes, HCI chief operating officer.
CWM includes the practices organizations use to manage their outsourced workforce — a flexible portion of the workforce that may include contingent workers and contracted talent such as independent contractors, temporary workers, freelancers and interim executives. This growing employment category is now estimated to number approximately one-third of U.S. workers.
The report indicates that for the majority (90 percent) of organizations, costs associated with establishing centralized CWM are minimal, yet the up-front investment may help human resources professionals save their organizations "hundreds of thousands or even millions of dollars each year."
Other significant findings include:
For most organizations (75 percent), contract talent management is seen as strategic in that it can enhance competitiveness and profitability.
A decentralized contingent/contract talent management process can result in a variety of inefficiencies, such as those leading to long hiring cycles, flaws in on-boarding, inaccurate time/attendance and pay records, contractor tenure management difficulties and concerns about co-employment risk.
Some decentralized organizations report an inability to determine their number of contractors, the tenure of those contractors, their skill sets, their total pay and the risks involved in engaging them.
Organizations with decentralized, hiring-manager-led CWM programs suffer reduced visibility, increased risk and higher-than-necessary costs.
More than 50 percent of survey respondents utilizing centralized CWM report return on investment (ROI) in three key areas: "reduction in overall spend," "increased output versus full time resources" and "reduction in administrative time and cost."
Technologies Explained, Recommended
The report also introduces terminology for new technologies and services used by large organizations with significant CWM spend that can help reduce costs quickly and dramatically while reducing risk, improving visibility and increasing efficiencies.
Technologies and services cited include vendor management systems (VMS), managed service providers (MSPs) and independent contractor engagement specialists (ICES) or portable employers of record (PERs).
Such technologies and services provide a number of payment structures by which organizations can minimize up-front and "out of pocket" expenses.
Making the Business Case for Centralized CWM
According to the research, HR and talent management professionals making a business case for centralized, enterprise-wide CWM should seek an executive sponsor and general leadership buy-in, as well as present these points, which are particularly critical in today's economy:
An organization with a decentralized CWM process can expect hard-dollar savings of between 7 percent and 12 percent on its current costs following a move to enterprise.
In more than 90 percent of organizations, the costs associated with implementing an enterprise CWM are minimal.
Central, enterprise-managed CWM reduces compliance risk, such as co-employment violations.
Centralized CWM has resulted in shorter hiring cycles, reuse of requisitions, more efficient and effective on-boarding and reductions in contractor time to performance.
Better data and better reports — on which better decisions can be made — are additional benefits of centralized CWM.
With centralized CWM, employers can track how many contractors they have, how long they have been there and when to off-board them.
Additionally, Schweyer writes, respondents advised "... that the business case should reference exactly where and how it furthers the overall corporate business plan."
More information on the report is available at the HCI Web site noted below.
Publication of the HCI report coincides with the release of a white paper by TAPFIN, a provider of business processing outsourcing services. Titled "Introduction to Services Procurement Management: Bringing Structure, Efficiencies, and Cost Savings to the Procurement of Outsourced Projects and Services," the paper addresses the benefits of a services procurement management solution.
The TAPFIN white paper is available (registration required) at
www.tapfin.com/spm101.aspx
.