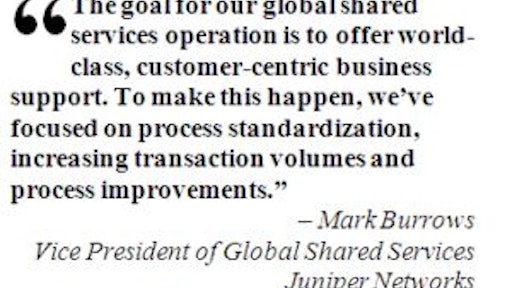 Atlanta — October 8, 2009 — Many companies are now moving beyond shared services to manage their back-office operations, with a new global business services model quickly beginning to emerge, and leaders moving in this direction like
Juniper Networks
and
StatoilHydro
already are realizing dramatic cost improvements, according to new research from
The Hackett Group
.
Global 1000 companies are dramatically transforming their service delivery model for finance, IT, procurement, HR, and other general and administrative (G&A) functions, and are benefitting from value being created by new global business services organizations, Hackett writes in its research paper, "Global Business Services: More Than a Name Change."
These global business services break down functional boundaries, serve as an integrated strategic part of the business, and are driven by a true service orientation in terms of culture and performance. This move toward the GBS model has been accelerated by the current economic environment, Hackett finds, and companies need to examine this trend now or risk being left behind.
Over the past 15 years, shared services organizations have grown in popularity, to the point where they are now the standard approach for how large companies manage G&A functions. According to Hackett's research, 93 percent of all large companies today are making extensive use of shared services organizations. Shared services organizations have helped the world's largest companies to save millions of dollars by enabling efficiency and effectiveness improvements and also driving enhanced productivity, quality and customer service, Hackett notes.
But today, many companies are taking the next step, evolving from standalone shared service centers for individual functions to integrated global business services operations that take a multi-function approach. A recent study done by Hackett and the Shared Services & Outsourcing Network, which surveyed more than 250 SSON member organizations, found that nearly 45 percent of all companies surveyed had incorporated three or more functions in their shared services operations, with some incorporating as many as five functions.
Breaking the Links
According to Hackett, companies have learned that once they break the physical connection between processes and the business units, they have much greater latitude to drive changes such as process improvements, standardization and moving functions to low-cost labor markets.
As companies evolve towards a global shared services model, they can extend this concept further, moving away from silos by function and creating a single organization with shared reporting. This facilitates a more strategic perspective, enabling companies to transform G&A from a must-have cost center to a new enterprise core competency that can significantly differentiate and move companies to world-class performance levels.
"There's no question that shared services has been a powerful driver of G&A cost reductions and quality improvements at most companies," said Hackett Global Business Services Practice Leader
Roy Barden
. "But it's also clear that the shared services model has fully matured over nearly two decades, and companies on the cutting edge are beginning to take the next steps. In most cases, those steps are towards global business services."
According to Hackett Global Business Services U.S. Practice Leader
Honorio Padron
, "In some companies, global business service is an evolution, and in others it is a revolution of the way that G&A services are supporting the business."
Padron said that Hackett's research shows that companies that are moving toward global business services differentiate themselves from typical companies in several key ways. They establish a performance culture keyed to problem solving and customer responsiveness. They move beyond service level agreements to truly focus on improving customer satisfaction, and even integrate these considerations into their budgeting and investment decisions. Finally, they understand that change management is critical, and that this includes clear, open communications and staff involvement in problem solving.
"Companies that fail to adapt their G&A will be left at a significant competitive disadvantage," said Padron.
Juniper Networks, StatoilHydro Lead the Way
One company at the cutting edge of the global business services trend is Juniper Networks, a networking products and services company with $3.6 billion in annual sales in 2008. Over a 12-month period, Juniper Networks transformed its shared services operation into a global services operation with the help of an existing shared services facility in Bangalore, India. Success at standardizing processes and increasing transaction volumes has already led to cost improvements of 25 percent, more than three times the initial goal.
"Operational excellence is at the heart of our corporate growth strategy," said
Mark Burrows
, vice president of global shared services at Juniper Networks. "The goal for our global shared services operation is to offer world-class, customer-centric business support. To make this happen, we've focused on process standardization, increasing transaction volumes and process improvements."
Burrows added: "At the same time, the voice of the customer has been very important, and we started with a detailed functional analysis to help identify which processes could be moved offshore and which needed to remain locally managed. We also looked at which were ready to move as is, which needed streamlining or simplification, and which we could fix after the move."
At Norway's StatoilHydro, one of the world's largest oil and gas providers, global business services is a key element of the company's overall improvement agenda, which focuses on utilization of common processes and tools to ensure economies of scale and skill to create one global company based upon a global delivery model across functions.
With a mandate from CEO Helge Lund, the company launched a transformation process to establish a multifunctional global shared services organization by September 2006 with a lofty ambition: world-class by 2011. Global business services now provides services for processes in IT, HR, finance, facility management, procurement and communications, and has established itself as a business unit with service level agreements for all customers, clear performance targets and value-adding services.
This year, StatoilHydro was recognized as "Shared Services Organization of the Year" and "Best Mature Shared Services Organization" at the 2009 European Shared Services Excellence Awards, presented at the 9th Annual
Shared Services & Outsourcing Week
in Budapest.
A version of Hackett's Research Insight on this topic is available free, with registration, at
www.thehackettgroup.com/gbspaper
.