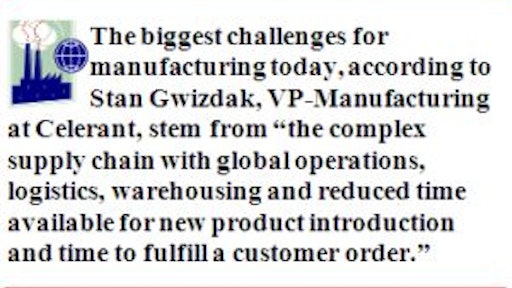 Lexington, MA — October 16, 2009 — The manufacturing sector should see increased performance in 2010, but manufacturers will continue to be challenged by complex, global supply chains and more pressure for faster new product introductions, according to
Stan Gwizdak
, the new vice president for manufacturing at consulting firm
Celerant
.
Gwizdak, who has more than 20 years experience in the manufacturing sector, including roles ranging from new development engineer to manufacturing supervisor to CEO of manufacturing operations, sees several factors driving an uptick in manufacturing next year, including:
declining imports as companies review their supply chain strategies;
continued market consolidation and acquisition activity; and,
green products and companies in the solar, wind, and geothermal space.
Gwizdak based his predictions on recent discussions with senior manufacturing executives, and he also points to The Manufacturers Alliance (MAPI) forecast that shows a 3 percent increase in manufacturing production in 2010.
The biggest challenges for manufacturing today, according to Gwizdak, stem from "the complex supply chain with global operations, logistics, warehousing and reduced time available for new product introduction and time to fulfill a customer order."
While the global supply chain focus remains an area of execution, Gwizdak adds: "Most companies continue to concentrate on reducing costs to manufacture a product or service. Many companies look to determine the most productive and economical ways to manufacture their product. Areas of focus include make/buy decisions, warehouse locations and footprint, speed of new product introduction, logistics strategy, local optimization of facilities and processes to manufacture a product in the minimal time, and reduction of overall costs."
All of this boils down to "reducing overall cost, growing revenue, and driving consistent performance to customer and shareholder needs," he said.
Prior to joining Celerant, Gwizdak held roles such as CEO, president, chief operating officer and vice president at General Electric, Honeywell, Textron, Aurora Capital, SBM Solar and S&G Business Ventures, his own firm. While at General Electric, Gwizdak rose from a Six Sigma Black Belt to a Master Black Belt and eventually to a president's role, and during his tenure as president at General Electric, he help to double the revenue in the business as well as increased profits by 803 percent in 18 months.
Gwizdak is an avid Social Media advocate and frequently leads thought-leadership forums on how to best leverage tools such as
LinkedIn
and
Twitter
for business development and brand awareness.