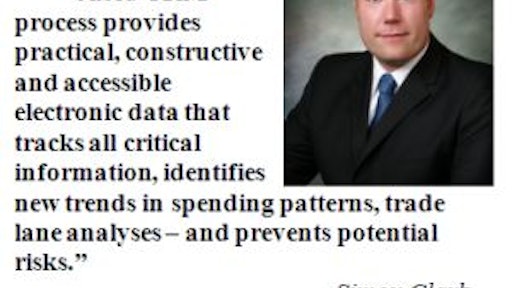 Milton Keynes, UK — February 24, 2010 — This new year of change and challenge calls for international freight and logistics companies to carefully evaluate lessons learned from the global recession and address future business sustainability to avoid future operating risks, says
Simon Clark
, business development manager for EMEA at
CargoWise
, a technology supplier for logistics service providers.
"After a difficult year for the logistics industry, business executives are glad to put 2009 in the rearview mirror," says Clark. "The global recession reshaped the manner in which the freight and logistics industry conducted business. Operating decisions and business models were dissected and resources were reduced to survive. Moving forward in 2010, it's time to rethink and alter our approach to business sustainability in order to reflect changing economic dynamics."
Clark warns that despite a predicted uptick in the global economy this year, business management challenges still exist as the strength of the economy in the new decade will depend on how quickly, and to what degree, customer demand picks up. How the logistics industry approaches changing customer profiles and addresses creative business continuity planning will be critical to achieving sustainability and success.
"In a global economy, the business environment will always fluctuate depending on market demand," says Clark. "Recognizing this, businesses must always be alert to changing conditions in order to maximize variable business opportunities. Doing so also ensures that companies themselves will not be at risk when moving forward. The success of any enterprise and its operating environment are critical elements in sustaining an ongoing workload and ensuring long-term success. Corrective, proactive and resourceful continuity measures should be taken regularly."
Clark points out that as businesses continue to create enhanced types of communication with trading partners, it's important to regularly reassess their entire CRM process, including how information is compiled, stored and accessed in order to avoid risk.
"Despite the fact that our industry is increasingly dominated by Web-based transactions and social media, we remain a heavily paper-based industry," he notes. "Masses of paperwork in the form of job files are still created, kept in offices for months and then sent to a warehouse facility for storage. These are not always secure areas; and if damaged or lost, businesses are impacted when the authorities perform their audits. The vast number of e-mails sent via computer or smart phone between parties is also at risk if a server fails and information is not recoverable."
The solution for optimizing business continuity planning and reducing operational risk in today's increasingly IT-based global supply chain lies in taking preventative steps, Clark advises. This can be accomplished by archiving all transactional documentation electronically in a single software platform, he suggests, noting that the electronic solution offers several significant paperless benefits:
Virtually all transactional data can be automatically archived electronically, eliminating the need to store paper documents that can be damaged or lost. Electronic documentation also provides the ability to have email and content automatically added to the document archive and indexed back to the job file, which offers obvious continuity benefits.
Processing documentation manually is eliminated. This saves labor and time and avoids the need to keep scraps of paper notes scattered about without required access, thus ensuring an improved, reliable and real-time business continuity process.
An automated IT solution can store notes on all business documents, including job files, client records, credit history discussions and other critical information for each job file. These notes can then be used as electronic 'post-its' that can be stored and passed internally between members of staff, or used as constructive formatted notes that can then become part of a cohesive documentation process. They can even automatically appear on client facing documents.
The business continuity process takes into consideration the involvement of work done by key personnel in the office. A high-quality business continuity management process considers if employee account knowledge is also documented elsewhere so others can access it when necessary to ensure workflow continuity.
Integrated CRM solutions powered by a robust IT solution are a powerful component in preventing adversity and optimizing the business continuity planning process of logistics operations in any business environment, summarizes Clark.
"Regardless of market conditions, IT-based planning tools enable management, team leaders, sales teams and others to act proactively to keep accurate records on all transaction histories through secure data centers that are safe and sound. The muscle of a good, Web-based CRM process provides practical, constructive and accessible electronic data that tracks all critical information, identifies new trends in spending patterns, trade lane analyses — and prevents potential risks. This helps support business continuity planning by ensuring the day-to-day success of logistics operations regardless of the economic climate and business model required to meet changing market dynamics."