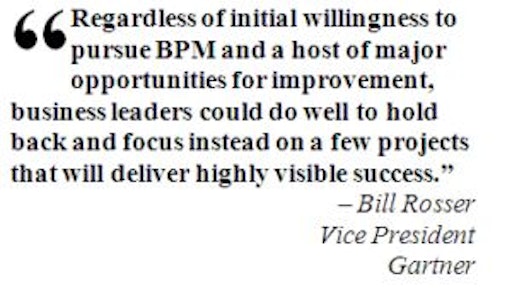 Egham, UK — February 24, 2010 — Research firm
Gartner
is offering a checklist for companies looking to ensure the success of their business process management (BPM) projects, advising that organizations must pay close attention to seven non-technology-based factors in order to hit the ball out of the BPM park.
"Regardless of initial willingness to pursue BPM and a host of major opportunities for improvement, business leaders could do well to hold back and focus instead on a few projects that will deliver highly visible success," said
Bill Rosser
, a vice president at Gartner. "Early, visible, concrete project success is especially important to the long-term acceptance of BPM as a valuable discipline."
Rosser asserted that compliance with the following checklist of guidelines will translate into a very high probability of project success and a major boost for business interest in adopting BPM as a program:
1. Limited Scope
. For the best results, start small. This means a limited-scope project, not a major end-to-end process to improve, but perhaps a portion of one. The timeframe should be relatively near-term, oftentimes no more than 60 to 90 days. It should not be a complex challenge, but rather one that is relatively straightforward and for which organizations have the skills available. A small number of limited-scope projects is best to provide concentrated focus on achieving results and to spread the word regarding a high-value payoff. In order to surface smaller candidates, it is important to first create a higher-level contextual business process model to find the best opportunities.
2. High Value
. The business performance improvement must be seen as having a high value towards attaining the desired business performance results. Only a fraction of all business processes are perceived as having high inherent value in achieving end results.
3. Clear Alignment to Goals
. Another parameter to consider for target process selection is that of alignment with important organizational or business-unit goals and strategies. If the BPM-based performance improvement that is being pursued directly contributes to the attainment of a targeted goal and fulfils the corresponding strategy, this will add positive attention to the BPM effort. The link to goals and strategies can occur at various levels of the business purpose hierarchy — from the high-level stock price down to the details such as employing Twitter — but the hierarchy should be developed and understood clearly.
4. The Right Metrics
. Only through measurement can companies get the necessary awareness and credibility regarding the value of the BPM-based improvement achieved. The definition and the means of measurement, involving only a few metrics, must be in place, understood and accepted by the rest of the organization. Furthermore, it is essential that performance-baseline data be available as a basis for comparison of current results versus prior results. The quantitative degree of improvement is vital to make a strong impression. This clearly requires a sound, disciplined post-project review and/or audit — and potentially even a longer-term review of results.
5. Goal Agreement
. All the relevant process stakeholders must work together to agree on what is the desired performance improvement. Although this may seem simple and obvious, it is not uncommon for different constituencies regarding a process to have different views about what "goodness" is for a particular process. Agreement towards a primary, shared, common performance goal must be worked out to claim success. In some cases, this work may take as much effort as that of the business process modeling.
6. Enthusiastic Business Sponsor
. To get the project done promptly and well, and to spread the word across the organization, an enthusiastic business sponsor is essential. The business sponsor is not in charge of the project, but rather is the primary beneficiary of the new, improved level of performance. This person is absolutely sold on the idea and encourages both the business operating staff and the BPM implementation staff to get things done. The business sponsor helps overcome any obstacles that arise and makes necessary decisions. Once one task is completed, this same sponsor, one who is ideally influential in the organization, will continue to promote the great results to peers and superiors. This requirement is so vital that, if such a sponsor is not available, IT leaders should pursue another project.
7. Business User Engagement
. Getting the people who actually do the work of the process onboard can be an enormous help towards success. Getting them on board typically means offering a fresh perspective on how to look at what they do in their jobs, and making a process view easy to understand and intriguing. Success here can mean that users realize that they are the experts, they feel a sense of ownership about what they do and they engage in seeing how things could actually be done better. Generally, to accomplish this means bringing good modeling, good methods of visualization and meaningful measures of performance.
More information can be found in the report "Seven Key Guidelines to BPM Project Success," available to Gartner clients and for sale to others
here
.
Gartner is hosting its Business Process Management Summit 2010 in London March 1-2 and in Las Vegas March 22-24. More information at
www.gartner.com/us/bpm
.