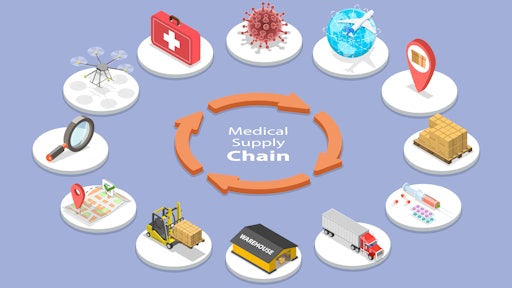 TarikVision AdobeStock_518968347
Lana Burrell, head of CDMO for Roche, and one of the winners of this year's Pros to Know award, details why the supply chain industry is a rewarding career path and is what brings innovative products to customers worldwide.
CLICK HERE to view the full list of winners.
Supply & Demand Chain Executive: Let's first talk about you. Tell me a little bit about yourself and your journey to get to this current stage in your career?
Lana Burrell: I grew up in a large extended family in Alabama and have always been curious about learning about new things and new people. To this day, I prefer global roles because I like working with that diversity of people.
My father worked for Ciba-Geigy for decades, and I always loved the sciences. My mother showed me I could do anything if I put my heart and soul into it. When I was growing up, I watched her overcome endless hurdles to achieve her goals at a time when they seemed impossible. Her lessons in resilience have served me well.
I have always enjoyed roles that have required breaking new ground – whether it's a new process, a new structure, or even a new organization or team – to improve speed, efficiencies, cost savings/avoidance and simplification across the end-to-end value chain. I've always been passionate about improving health equity in our industry, so improving our efficiency as we build our supply chains is a big driver for me as I see it as an opportunity to contribute to that vision.
I gained invaluable experience during my 16 years at J&J in roles that spanned development, technical operations, quality, business operations and lifecycle management, in addition to supply chain. I was mostly based in New Jersey but also spent two years at Janssen (the pharma division of J&J) headquarters in Belgium.
More recently, I led the integration of three contract development manufacturing organizations into a single end-to-end external manufacturing organization at Roche while relocating from California to Switzerland. Moving overseas while leading a major transition is not without its challenges, but I have a great team and really enjoy working for Roche because we make such life-changing medicines and live our sustainability pledges.
Supply & Demand Chain Executive: Most supply chains have struggled over the past couple of years. What are you and your team/company doing to help heal logistics?
Burrell: One of our top priorities for global supply at Roche is improving our data visibility and improving our ability to proactively respond to the data so we can minimize risk and deliver our medicines faster to our patients. We are also investing in a more formalized approach to proactively monitor and interpret geopolitical developments and evolving legislation coming from different parts of the world and how that affects either the supply chain or the life sciences industry.
We need to be sure our talent has the capabilities to support all of this, so we are continually building new skills that will ultimately help us reduce risk. In parallel, we're looking for partners who want to join us on the sustainability journey. This will be essential as we aim to heal logistics.
Supply & Demand Chain Executive: What advice do you have for the youth of today looking to get into the supply chain industry?
Burrell: As you move up the ladder, continue to be yourself and operate with integrity, and that will serve you well throughout your career. Also, stay focused on driving value and stay open to pivoting when needed. Be comfortable with ambiguity and make an effort to learn about other people and other cultures.
For anyone interested in the pharmaceutical industry, I would stress that supply chain is what brings our innovative medicines to patients, so it's a very rewarding place to be and represents so many potential career paths.
Supply & Demand Chain Executive: What would you tell your younger self?
Burrell: Don't spend too much time worrying about what other people are saying. Thank people for direct feedback and try to understand the underlying source of their comments. This will help you find empathy and understanding for those who are providing that feedback. I wish I had received this advice earlier in my career.
Supply & Demand Chain Executive: Now for the lightning round….Dogs or cats?
Burrell: I don't have either, but I prefer dogs.
Supply & Demand Chain Executive: Breakfast or dinner?
Burrell: Breakfast for sure.
Supply & Demand Chain Executive: Shopping in person or online?
Burrell: In person, ideally with a friend who will be honest.
Supply & Demand Chain Executive: What are your Top 3 predictions/trends for the supply chain space in 2023?
Burrell: The first would be more global partnerships with tailored local services. To be successful globally, supply chains will need to adapt to a more flexible local approach to serving customers within each market while maintaining a strong customer-responsive mindset everywhere they operate.
Second, I see an increase in requirements for external suppliers to demonstrate sustainability commitments to their business partners during the selection process. Supply chain has such a big role to play within sustainability, so as we deepen our understanding of the impact we have in the communities that we serve, I predict suppliers will need to become more transparent.
Finally, I see a culture shift in talent toward a more agile mindset and a higher tolerance for ambiguity. Digital solutions and unpredictable developments will continue to throw us off course, so we need to become masters of reinvention to compete, deliver and thrive as a supply chain professional today.
Supply & Demand Chain Executive: You're named a Pros to Know. What's next? What's on the horizon/in the works for you?
Burrell: In April, I presented a keynote with my manager, George Beres, at the annual LogiPharma congress in France. Longer term, I'm excited about continuing our work to accelerate our delivery time for our life-saving medicines to patients.
On a personal note, I'm going to enjoy time with the growing number of young professionals that I mentor. So many people have helped me throughout my career journey, so I am grateful for opportunities to pay it forward.