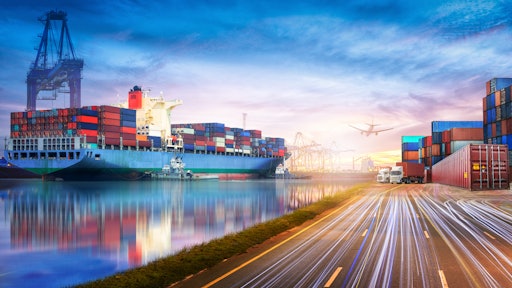 enanuchit
Without a doubt, today's supply chains are more globalized than ever before. Global trade as a percentage of global GDP increased from ~25% in the early 1970s to more than 50% in the early 2000s and peaked at ~61% in 2008 before falling to 52% in 2009, and now ranging between 50% and 60% from year to year.
With complex trade interlinkages, today's businesses no matter their size are dependent on extended global supply chains. The onset of Covid-19 and the recent semiconductor crisis have made this realization more real for a large number of businesses as they faced disruptions due to challenges with tier 2 and 3 suppliers in faraway geographies. The bottlenecks of transcontinental logistics since 2020 have further increased feelings of vulnerability among businesses. The recent disruptions have become triggers in an increasingly disruptive environment since the 2008 Financial Crisis, the 2009-2012 European Debt Crisis, and the 2011 Earthquake in Japan.
While reshoring and nearshoring have been discussed and debated since the early 2000s, disruptions over the last 3 years have compelled businesses to explore this topic more seriously than before as they are looking for ways to increase their supply chain resiliency. Amid pressures from domestic audiences and governments in terms of sustainability, trade barriers, and economic nationalism, businesses cannot afford to ignore this topic any longer.
Before we go further, here are a couple of things to note:
The analysis in this article is from a strategic sourcing perspective. So, if you are a procurement or supply chain professional, this is relevant for you
The term reshoring will refer to both reshoring and nearshoring henceforth to keep things simple
Now getting back to the topic…
Is reshoring happening?
It is clear that reshoring has moved at a snail's pace. For example, the US has not been able to shift manufacturing back from Asia in a meaningful way, according to a Kearney study. From 2011 to 2021, US imports from China grew at 2.6% CAGR which is ~1.3x of its average real GDP growth over the same period. In the backdrop of the US-China trade war, US imports declined 16% in 2019 and 3% in 2020, only to recover by 19% in 2021.
A 2021 McKinsey study found that most businesses that were eager to regionalize their supply chain at the onset of Covid-19 instead ended up increasing their inventory to tackle disruption as it is "quicker to build inventories than factories".
What are the major hurdles to reshoring?
Asian manufacturing hubs can still produce most things cheaply when compared to other locations. While the cost differential is still substantial, it is narrowing due to local wage increases, improved labor productivity and automation-led gains in the West, and a significant increase in ocean freight rates since 2020.
The supply markets for crude oil, natural gas, and certain farm goods will remain concentrated in particular geographies due to obvious reasons.
Moving own manufacturing or tier 1 supplier relationships back to home markets will not improve resiliency as businesses have to examine and address dependencies in their entire supply chain network – from tier 1 to 3 and beyond. No business can alone control or influence the shift of the extended supply chains.
Globalization has fuelled product innovation and reduced go-to-market time due to easier assimilation of capabilities and expertise of every supplier in the extended supply chain. Businesses will be ill-advised to ignore this aspect.
What is likely to happen in the near to medium term?
Over time, most businesses are likely to engage with suppliers that are closer to their end markets. This agenda will be helped by the growing imperative to increase business resiliency, lower dependence on transcontinental logistics, and focus on anti-money laundering and sanctions screening as well as compliance with regulations related to forced labor and human trafficking.
According to a 2021 study, 45% of businesses surveyed are moving their supply chains closer to home. Another study stated that ~90% of businesses surveyed plan to regionalize their supply base over the next three years. Due to expected business and trade interventions by the US and the EU governments, the shifting of supply chain networks is likely to gain more traction in the coming years.
The above trend will not lead to a complete decoupling from the rest of the world, as the flexibility of shifting supply base will vary by industry and existing commitments of each business in key supply markets. As a result, businesses will also use one or more levers below to manage their risks in the near to medium term:
Multi-sourcing: Businesses have realized the importance of having a diverse supply base, and as a result, many will actively avoid sole-supplier situations. The focus has shifted from low-cost sourcing to business resiliency.
Inventory and capacity buffers: Businesses not only need buffer stock of critical materials to manage supply disruptions and price volatilities but also buffer capacity in their supply chain to address demand surges and handle supply disruptions due to accidents or natural disasters at a production site.
Analytics-driven supply chain monitoring and planning: Businesses need ongoing insights into suppliers of suppliers and emerging demand-supply situations. Also, supply chain planning cycles need to be shortened from monthly to weekly. It has become evident that early adopters of analytics-driven solutions are more successful in managing disruptions than others.
Supplier collaboration: Businesses will have to forge deeper relationships with strategic suppliers to ensure business continuity. To improve collaboration, such suppliers should be involved in product innovation and redesign, supply chain planning, and sustainability projects.