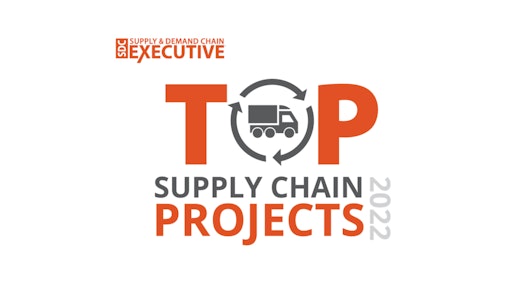 Innovation is the name of the game for this past year's projects in the supply chain as the industry looks to overcome the obstacles that keep coming. While many of these problems were already headed our way, the pandemic exacerbated it all, leaving behind continued waves of new disruptions. This year's Top Supply Chain Projects were full of companies looking to solve these problems, create greater efficiency in operations and prepare organizations for continued and any new problems that can arise.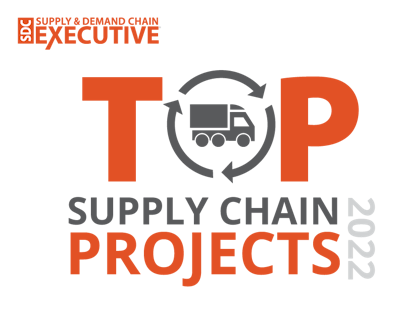 To do so, organizations in the supply chain band together to manage risk mitigation while maintaining other important parts of their organization such as ESG (Environmental, Social and Governance) growth. A recent report from Ivalua and Forrester Group showed that when looking for products and services, organizations look for innovation in procurement KPIs (57%), drive flexibility in meeting requirements (56%) and reduce pressure on cost savings (52%). Six out of 10 companies look for systems that allow them to collaborate with suppliers on product innovations.
The interest in these areas continues to increase, as 97% of supply chain companies report experiencing disruption last year in a Blue Yonder survey and 83% claim to increase investments. And, another survey from MHI and Deloitte says nearly 80% of supply chain leaders say their digital transformation has accelerated due to the pandemic.
Our 2022 Top Supply Projects award's mission is to celebrate projects the most transformative and successful cases from the past year. And, this year's winners are indicative of the research mentioned above, as all of them hope to remain stronger with new investments. They showed significant results in numerous areas of the supply chain and with that came innovation to help move the supply chain forward as a whole. Listed below are some standout projects that happened within the last year.
Vendor: ALOM
Customer: ALOM
Customer's Primary Industry: Supply chain management

Timeframe: 18-20 months
Business Objective: Accelerated by the impacts of COVID-19 on workforce recruitment, ALOM planned, developed and implemented a multi-faceted digital transformation program that created an enhanced people management technology infrastructure. The initiative put in place integrated internal and external tools/systems to increase efficiency and reinforce its mission-driven cultural values across a new generation of workers to improve employee engagement and position the company as an Employer of Choice. The key objectives of the project were to increase efficiency and effectiveness of candidate applicant tracking/recruitment, new employee onboarding, staff development and training; modernize and integrate online payroll, benefits administration, employee 401(k) and HSA account management for geographically dispersed and growing workforce; incorporate succession planning and promotion development/readiness into individual staff development plans; expand content and improve usability for online learning management resource called ALOM University; and address employee wellness through no-cost stress and mental health education and content/resource delivery. Collectively, the successful implementation of this single initiative contributed to the ALOM team achieving record performance in 2021 in the following company and staff management areas – 70% workforce growth; 60% revenue growth; 6% decrease in employee attrition 2021 vs 2018; 65% reduction in recruitment days to fill open positions.
ROI: ALOM was able to assemble and ship nearly 1 million COVID-19 test kits per week at the peak of the pandemic. The integrated ALOM system provides real-time notification of potential anomalies across a wide range of disruption factors. If a disruption is identified, orders may be routed to a different supplier or fulfillment location based on available capacity, proximity to delivery location or available inventory. ALOM ramped up production capacity five times the previous limit within weeks without experiencing any loss of accuracy for COVID-19 test kits. ALOM controlled productivity in spite of steep ramp and preventive pandemic measures, which typically would have resulted in productivity loss. In addition, the company took S&OP planning to the next level through mining and aggregating historical data from multiple client group programs, fulfillment locations, freight carriers and suppliers.
Vendor: Fine Tune Expense Management
Customer: Fortune 1000 global manufacturer of technically advanced specialty materials and complex components

Customer's Primary Industry: Business consulting and services
Timeframe: April 2020 - Present
Business Objective: Fine Tune and its client of 4.5 years—a $3 billion global manufacturer of technically advanced specialty materials and complex components—underwent an intensive optimization project that saved the client hundreds of thousands of dollars in uniform rental category spend. Utilizing its proprietary Expense Management Optimization and Auditing Technology (eMOAT), Fine Tune worked with the client's sourcing leaders to review spend and inventory summaries across 16 sites. Doing so uncovered and implemented substantial savings, including facility service item inventories and service frequencies, uniform quantities, direct sale/restroom product buying strategy and loss and ruin charges.
ROI: As a result of Fine Tune's deep dive into spend and utilization, the client company spent nearly $100,000 less in 2021 on uniform and non-garment rental than in 2020, and more than $205,000 savings is expected over the client's remaining uniform rental program term. Additionally, the project resulted in sustainability improvements—an important benefit of Fine Tune's optimization projects—with reductions in wasted space within facilities where unused product "sat," extra trips by the uniform supplier for unnecessary item servicing, uniform wash cycles and new uniforms injected into the program. Finally, the client's Commodity Manager reported an added benefit of being able to "focus on more strategic efforts across the business" as Fine Tune executed and managed the project, and in everyday operations moving forward.
Click here to hear more from Fine Tune about this project.
Vendor: inVia Robotics
Customer: Leading entertainment merchandise 3PL

Customer's Primary Industry: Fashion and beauty, entertainment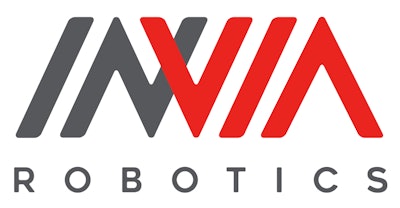 Timeframe: April 2021 – Present
Business Objective: This 3PL was using completely manual processes, and the warehouse team was picking at an average rate of 30 UPH. It chose inVia to implement a comprehensive warehouse execution system (WES) that could create greater efficiencies in its Carlsbad, Calif., distribution center. This project entailed using artificial intelligence (AI) to better organize storage and movement of inventory, providing tools that would help employees be more productive and using robots to automate picking and replenishment tasks to save on labor costs. Using inVia's robotics-as-a-service (RaaS) model, this 3PL was able to adopt all of these optimizations at its own pace without disrupting any of the existing operations. It started by implementing the inVia Logic WES and the inVia PickMate productivity tool. First inVia Logic identified the ideal location for inventory to store in reserve and in forward pick locations. Using inVia's system to do this was particularly important because all of the orders are e-commerce and depend on random access to all SKUs. inVia Logic also functions as the labor management system. It collects and uses data on each worker to assign fulfillment tasks, tracking elements such as pick rates, travel time and time to productivity. Furthermore, it dynamically reassigns labor throughout the day according to progress against SLAs. Additionally, employees started using inVia PickMate on their existing handheld devices to receive intuitive, step-by-step instructions to complete fulfillment tasks. This helped boost both efficiency and accuracy rates, leaving no steps in the process open to guessing. After using the software alone for 3 months and seeing doubled pick rates, the 3PL added inVia PickerWall using a fleet of 42 inVia Picker autonomous mobile robots (AMRs). This workflow leverages the strengths of robots on one side of a daily put/pick wall and the strengths of people on the other side.

ROI: This 3PL was able to increase productivity rates 1,000% higher than what they were achieving before implementing the inVia Robotics automation system. Before, it was averaging 30 UPH per picker, and now, averages 334 UPH per picker. This increased efficiency and reduced labor needs by 60%, which was the difference for it be able to stay in business given the tight labor market. Using the machine precision of robots to pick and putaway items also increased accuracy rates to 99.9%.
Click here to hear more from inVia Robotics about this project.
Vendor: ndustrial
Customer: Lineage Logistics
Customer's Primary Industry: Energy software and technology

Timeframe: January 2021 - December 2021
Business Objective: Lineage Logistics leveraged ndustrial's nsight Coincident Peak solution to save over $2.5 million in energy savings in 2021. Additionally, the savings removed 2MW of energy off the utility grid during peak energy demand periods. To make sure the amount of electricity fed into the electricity grid is equal to the amount of electricity consumer, ndustrial specifically developed the nSight CP solution to forecast electric grid peaks, allowing factories to avoid expensive power consumption periods and to help manage the electric grid. Lineage Logistics and other facilities have increasing pressure to maintain quality production standards while simultaneously reducing their energy costs, while operating at the lowest possible cost-per-unit of production. Additionally, reducing or adjusting energy use at the right time requires a comprehensive understanding of all facilities' operational and energy patterns. ndustrial was one of the first in the industry to develop this software-only approach to help factories reduce their energy demand charges through a proprietary machine learning algorithm. Lineage notified ndustrial when their monthly peak hour was going to occur, allowing them to reduce power consumption during the predicted time window. This process enabled Lineage to proactively adjust their production schedules, cooling set points, lighting levels or any other energy consuming function during the window. At the end of each month, ndustrial matched the savings prediction against the results of their load control to calculate savings and produce a monthly report.
ROI: As a result of the implementation, Lineage has saved $2.5 million in energy spend in 2021 and removed 2MW of energy off the utility grid during peak energy demand periods.
Click here to hear more from ndustiral about this project.
Vendor: The Raymond Corporation
Customer: Crossroads Community Services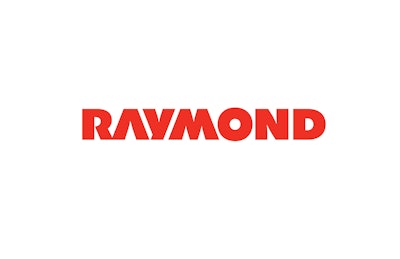 Customer's Primary Industry: Non-profit

Timeframe: 2020 -- Ongoing
Business Objective: Crossroads Community Services' primary objective is alleviating pockets of product insecurity in the southern sector of Dallas County as well as in Ellis and Navarro counties in Texas. Through its network of 150 distribution partners, Crossroads Community Services supplies products to low-income individuals and families in need. On Jan. 2, 2019, Crossroads Community Services moved its operation from about 10,000 square feet to 72,000 square feet. Just 14 months later, the economic effects of the COVID-19 pandemic hit the Dallas area. Just as Crossroads Community Services was starting to get comfortable in the new space, it was faced with a new challenge: unprecedented demand. In April 2020, it saw the number of daily visits double overnight, distributing 900,000 pounds of product. It turned to an authorized Raymond Solutions and Support Center, Malin, to learn best practices of receiving/shipping; to maximize efficient use of the additional warehouse space and inventory control; and to safely and fully utilize all the benefits of such an amazing new distribution facility. By leveraging Raymond Lean Management (RLM) principles, Crossroads Community Services was able to optimize its order picking process, donation center methods and shopping experience as well as increase capacity in its new warehouse facility. The goal is to obtain as much relevant information as efficiently as possible and instill a culture of continuous improvement throughout the organization. During the tour of the new facility, Malin experts spotted several areas that could be optimized to increase the operational throughput. For Crossroads Community Services, these continuous improvements extended far beyond the warehouse floor. It helped identify waste and implement technology upgrades in other departments, including shipping/receiving and the pantry shopping experience. The warehouse also was able to optimize the client experience by using RLM principles to implement a one-way shopping lane. When demand increased due to COVID-19, Crossroads Community Services used RLM teachings to continue to identify waste inside its warehouse. Through this process, the organization realized it was underutilizing its space. Raymond helped Crossroads Community Services perform an audit of its current warehouse setup and identified areas for improvement. Then Raymond developed a new layout of the warehouse based on the turning radius of the warehouse fleet that included more areas for smart storage and increased racking inside its warehouse and cold storage operations. Furthermore, COVID-19 forced Crossroads Community Services to change the way it distributed product while adhering to local and federal regulations. Using RLM techniques, Crossroads Community Services designed a kit building station to assemble and package clients' orders inside the pantry. Clients were then able to safely receive product in a no-contact drive-thru.

ROI: RLM allowed Crossroads Community Services to identify and implement small enhancements and tweaks in its processes, which led to a tremendous impact on its production and efficiency. RLM added value to Crossroads Community Services by empowering employees to make improvements and take ownership of the tasks they accomplished daily. By teaching workers to spot inefficiencies or potential errors in their work, lean management provided practical tools to share their ideas and develop impactful, long-term solutions. Using RLM strategies and techniques to process, store and distribute product, the non-profit distributed over 2,750,000 pounds and collectively distributed 11,800,000 pounds of product in 2020. By optimizing its warehousing space, Crossroads Community Services went from 485 racking spaces to 1,032 racking spaces.
Vendor: Verusen

Customer: Fortune 500 global packaging company

Customer's Primary Industry: Packaging



Timeframe: 2021

Business Objective: The Fortune 500 global packaging company was looking to offset inflation by reducing its inventories. It had just completed an acquisition and had a massive amount of relevant data living across many systems, but this data was highly disjointed, incorrect and disparate, providing an inaccurate view of inventories. This resulted in ongoing overstocking, a lack of visibility into where items are located, wasted spending and lost revenue. Using Verusen's AI platform, the packaging company could harmonize its data, creating transparency and integrity across all catalogs of data. This affected over 55 facilities and over 400,000 individual SKUs, saving the customer over $6 million in MRO space in less than 24 months. The customer was also able to identify over $21 million of verified cost reduction opportunities and over $200 million value of on-hand inventory related to MRO materials. In addition, by implementing Verusen's AI platform, the team reduced risk across the supply chain significantly. For example, one of the plants experienced two critical asset failures causing production to cease. The reliability manager could not find any available replacement parts to perform the maintenance needed to get the asset back up and running. The storeroom team first searched the plant inventory manually, with no result. Next, multiple colleagues initiated material searches within SAP, with no matching result. Finally, they contacted their manufacturer supplier and were told it would be a 4-week lead time to get the part, which would have cost over a $1 million loss in downtime. By using Verusen's AI Global Material Search capability, the company was able to locate the critical material in real-time at four sister plants, all within proximity. The material was dispositioned for overnight delivery, and the maintenance was performed, enabling the asset to be back up and running in less than 3 days with minimized downtime.
ROI: $6 million cost savings from reduced inventory and over $1 million saved from reduced production downtime.