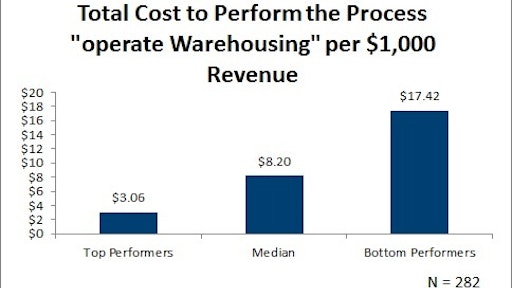 Where are your products?
The process operate warehousing includes the following activities:
Tracking inventory deployment.
Receiving, inspecting and storing inbound deliveries.
Tracking product availability.
Picking, packing and shipping product for delivery.
Tracking inventory accuracy.
Tracking third-party logistics storage and shipping performance.
American Productivity and Quality Center (APQC) research shows that there is large gap between the top and bottom performers when it comes to the cost to operate warehousing—more than $14 per $1,000 revenue. For organizations with $5 billion in revenue, this translates into a difference of $71.8 million.
Warehouse management systems (WMS) can be used to track product availability in near real time, which can streamline order processing. Process‐based strategies—for example, inventory slotting tactics that place fast‐moving products where order pickers can get to them quickly—are also effective methods for improving operational inefficiency.
The data above originated from APQC's Open Standards Benchmarking in logistics, which contains metrics related to logistics performance as collected from participating organizations. These metrics can help your organization see where it stands in relation to its peers and identify potential areas for improvement.