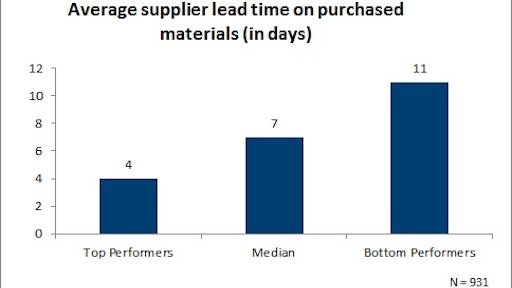 Lead time from suppliers can necessitate higher levels of inventory, higher inventory carrying costs and associated logistics costs. American Productivity and Quality Center (APQC) research shows that top performers have an average supplier lead time of four days, as opposed to 11 days for bottom performers. Top performers need three fewer days in supplier lead time than organizations at the median and seven fewer days than bottom performers.
Supplier lead times can vary somewhat based on the material being purchased and the distance of the supplier. However, APQC found that one cross-industry strategy associated with shorter supplier lead times is to make a concerted effort to reduce the amount of maverick purchasing occurring within the organization. Employees often circumvent established procurement processes because they view them as too complicated and cumbersome. Maverick purchasing may also be seen by employees as a way to receive purchased materials faster, although APQC's research revealed the opposite to be true.
Reducing the amount of maverick purchasing within an organization takes a comprehensive approach that involves both adopting systems that make it impossible for staff to order products outside of established channels and educating employees on the value of ordering from approved suppliers. By providing employees with transparency into the procurement process, organizations can gain support for using established procurement channels.
The data above originated from APQC's Open Standards Benchmarking in Procurement, which contains metrics related to procurement performance as collected from participating organizations. These metrics can help your organization see where it stands in relation to its peers and identify potential areas for improvement.