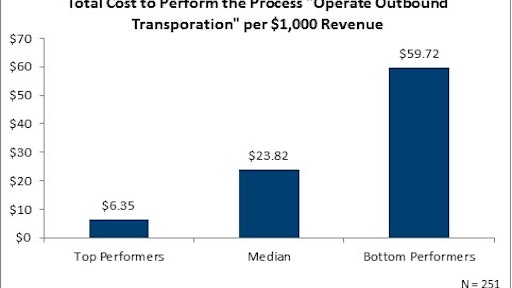 The operate outbound transportation process encompasses activities such as planning, transporting and delivering outbound products; tracking carrier delivery performance; managing the transportation fleet; and processing and auditing carrier invoices and documents.
The American Productivity and Quality Center's (APQC's) research shows that, at the median, organizations spend $23.82 per $1,000 in revenue to operate outbound transportation. The difference between top- and bottom-performing organizations regarding cost to operate outbound transportation is staggering. Bottom performers spend more than $53 per $1,000 in revenue to operate outbound transportation than top-performing organizations. For organizations with $5 billion in revenue, this translates into a difference of more than $266 million.
Reducing transportation costs can improve the efficiency and effectiveness of the logistics process. However, this is increasingly more challenging in the face of continually rising freight rates triggered by fuel price increases, strong national and global demand for shipping, driver shortages, and a variety of other factors.
An organization can reduce the cost of outbound transportation through the use of a transportation management system (TMS) that provides the ability to customize multimodal routes, which can optimize shipping costs. Automating parts of the outbound logistics process can also reduce the number of full-time equivalents (FTEs) needed to complete associated activities, further reducing costs.
The data above originated from APQC's Open Standards Benchmarking in Logistics, which contains metrics related to logistics performance as collected from participating organizations. These metrics can help your organization see where it stands in relation to your peers and identify potential areas for improvement.