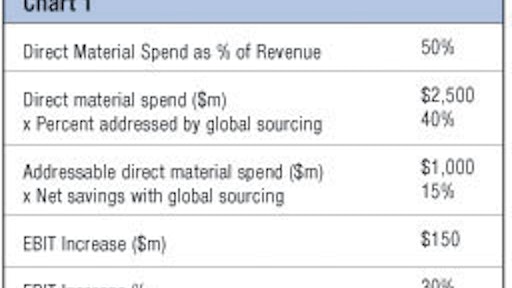 Leading organizations on the path to high performance are accelerating their global sourcing strategies, driving more aggressive cost reductions and looking to contract manufacturing to leverage and expand the value of their brand. Most significantly, these organizations plan to double spend on low-cost country sourcing in the next three years. (See Figure 1.)
Accenture research also reveals that high-performance businesses in your industry are masters of five procurement-related capabilities. They:
Source more direct materials globally and in low-cost countries to improve gross margins
Combine low-cost contract manufacturing and "buy-brand-sell" strategies to cut costs on low-margin products and fuel new growth by extending into complementary product lines
Elevate procurement to a strategic function to increase overall supply chain reliability and minimize total landed costs
Integrate purchasing earlier in the product development process to take maximum cost out of product design
Deploy consistent processes and tools across business units and operating companies to aggregate and standardize spend data and improve compliance
Many companies do not yet view procurement as a strategic function and source of value. The typical smaller- and medium-sized company lags far behind the largest industrial products and automotive companies in its use of global and low-cost country sourcing. Most take a fragmented approach to procurement, which leaves individual operating companies to pursue autonomous procurement policies and procedures with largely domestic suppliers.
Yet, experience shows that you do not have to be huge to have a successful global sourcing program and improve business performance as a result. For a typical industrial products company, the impact of global sourcing on profitability can be substantial: $100-$200 million in annual savings (for a $5 billion company spending $.50 cents out of every sales dollar on direct materials). (See Chart 1.)
For a typical $5 billion industrial products company operating at a 10 percent EBIT margin, sourcing 40 percent of direct material spend globally at 15 percent savings will drive an additional $150 million annually to the bottom line (EBIT increase of 30 percent).
The time is right for companies to take a closer look at expanding their global sourcing efforts. Here's why.
Re-evaluating Global Sourcing
Global sourcing of direct materials is no longer an option. It's a competitive necessity, thanks to the rapid rise of low-cost emerging nations as both sources and consumers of direct materials.
Newly industrializing countries are now the world's biggest manufacturers and consumers of steel. And China is an infrastructure giant in terms of both supply and demand. China's current Five-Year Plan calls for the construction of an additional 6,000 km of rail track, 200,000 km of road, 141 deepwater ports and 57 airports. Its projected energy requirements will necessitate an additional 500 gigawatts of capacity — 80 percent of Great Britain's total capacity — every year for the next 10 to 15 years.
Growth at this speed and on this scale spells enormous opportunities for global industrial products manufacturers, as well as for potential domestic suppliers and competitors.
Leading industrial products companies of all shapes and sizes are beginning to source more and more direct materials, including critical components, from low-cost regions. Witness Cooper Industries', the $5 billion manufacturer of electrical products, tools and hardware for industrial applications, recent decision to source some 35 percent of direct material spend with low-cost countries in 2004 — more than $350 million in China alone.
For many, the decision to "go global" has two strategic goals: take advantage of low-cost production opportunities, and to boost revenues from developing markets. General Motors (GM) recently broke ground for a green-field assembly plant in St. Petersburg to capitalize on the rapidly expanding Russian market for automobiles. By boosting domestic Russian assembly capacity, the new Chevrolet facility will not only lower GM's cost to serve. It will also increase GM's supply in a market where the carmaker has enjoyed record sales over the past year.
Chart 2, at the top of this page, illustrates actual landed cost savings on representative direct material categories across a range of Accenture industrial products and automotive global sourcing projects. Across all categories, clients can expect net direct material cost savings from 10 to 20 percent, with an average net savings of about 15 percent.
By using low-cost contract manufacturing, you can change the underlying economics of low-margin products. If it is no longer cost effective to manufacture your own products, consider outsourcing these products to a contract manufacturer in a low-cost region, then brand them as your own and sell them on to your customer through your current distribution channels rather than exiting the products completely. This strategy helps you protect current revenue while improving margins and prevents competitors from stealing market share and gaining a foothold with your established customers.
"Buy-brand-sell" strategies can also help you tap into the power of your brand to fuel growth by adding complementary products to your portfolio without incurring the usual product design and development costs that result time-to-market delays.
Complementary items needed for the aftermarket service of your products may be good candidates. One global manufacturer sources and re-brands the consumable supplies used for servicing its aftermarket parts, effectively extending its product offering. Everyone wins in this scenario — the customer gets a set of products he needs from a company he trusts, the third party gains access to an established distribution channel, and the manufacturer provides richer solutions and generates new revenues.
Taking Procurement to the Boardroom
By elevating procurement to a strategic function, high-performance businesses can flex their global-sourcing muscle in support of top-level business strategies.
When procurement ceases to be just an order-taking activity and becomes part of a cross-functional team, on par with engineering and product development, supply chain and logistics, true category expertise in direct materials can be developed and leveraged. Procurement's prominence, moreover, becomes more pronounced as the global sourcing capability strengthens.
A local procurement presence in key emerging markets targeted for sales growth can also be important — and not just because it helps to diversify suppliers and thus mitigate volatility in supply. Local knowledge can stay abreast of developing market conditions and help prevent the loss of market share to cheaper local producers. Some companies that recognize the importance of local procurement presence but cannot afford the time to establish local operations are actually outsourcing this function, letting others act as their international procurement office in China, for example.
When procurement is a strategic function it can drive component and module standardization as well. High-performance businesses maximize their use of standard components, as well as strategic partners and suppliers — a critically important capability in an industry where so many direct material purchases support new products, platforms or projects that require custom engineering.
Indeed, because it shares equal status with product development, the procurement function in a high-performance business can play a pivotal role in decisions about how products should be designed. By driving more extensive supplier involvement in your design process, for instance, suppliers get a better understanding of the customer problems you are trying to solve, while they bring a fresh set of design ideas and access to their latest technologies. The upshot: Your product is easier to manufacture, assemble, deploy and service in the field.
As key technical services like design and engineering — the "crown jewels" of many industrial products companies — become candidates for outsourcing, procurement's function becomes more strategic still. The Boeing Co., for example, contracted out the technical design and engineering work on its new 787 Dreamliner to 1,600 Russian engineers — a clear recognition of that country's unparalleled expertise in titanium technologies.
The aircraft manufacturer also is a striking example of how integrating purchasing early in the product development process can optimize global sourcing opportunities. The wing of Boeing's new 787 is being designed and manufactured in Japan — leaving the aircraft manufacturer with little more than an assembly role in the production of the aircraft. Yet by taking maximum advantage of supplier collaboration, Boeing has improved the product's features and reduced overall cost.
Deploying consistent processes and tools across business units and operating companies lays the foundation for aggregating spend data. Together with streamlining the requisition and approval process, common processes and tools can build the fact base to instantly understand what you are spending on major categories, as well as just how fragmented or concentrated your supply base actually is.
Capturing accurate spend information is critical to understanding a company's exposure to one supplier. Aggregated data support fact-based negotiation and help reduce your strategic supplier base (and associated costs). Once your strategic supply base has been consolidated, consistent processes and tools can help ensure that you buy the right product from the right supplier at the right time, driving those responsible for requisitioning toward standard items from approved or preferred suppliers.
Standardized reporting of performance metrics provides a consistent view for the company's executives on supplier performance. It also establishes expectations for suppliers during the sourcing processes. Suppliers get a chance to provide feedback on the company, for example — information that can help reduce the cost of doing business.
The use of consistent front-end processes for requisitions, approval, purchase orders and change orders helps ease back-end processes as well. Standardized processes involving the approval of requisitions, rather than invoices, limit the leakage of purchases to non-approved suppliers or for non-standard items. They reduce the cost of managing the number of items as well. And by easing access to contract terms they help ensure compliance.
The Payoff
High-performance businesses in your industry are already boosting gross margins by sourcing more direct materials globally and in low-cost countries.
Combining low-cost contract manufacturing with buy-brand-sell strategies has not only helped them tackle the problem of low-margin products, it has actually boosted growth by enabling profitable expansion into complementary product lines.
Because they have made procurement a strategic function, equal in stature to engineering, product development, logistics and supply chain, these high performers are minimizing total landed costs and increasing the overall reliability of their supply chains.
By integrating purchasing earlier in the product development process they also have slashed the cost of product design. And compliance, too, has significantly improved — thanks to the deployment of consistent processes and tools right across the business.
The opportunities for substantial savings in terms of both margin improvement and revenues from these capabilities are real. Isn't it time you joined the industry leaders on the path to high performance?