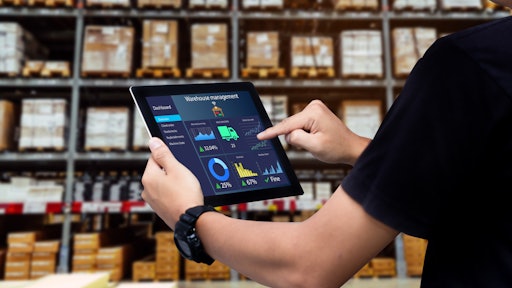 panuwat/stock.adobe.com
Supply chain disruptions caused a financial burden that amounted to a global average of $184 million in 2021. The pandemic highlighted the importance of having robust management systems in place. But following a standard template can do more harm than good, and more industry leaders are vouching for the power of personalization.
When you are a part of an ever-growing, multi-billion dollar industry, every step in the process needs to be maximized for productivity. From sourcing raw materials, analyzing first-party data, overseeing the flow of products, to dealing with finances— it's vital to figure out an efficient way that works best for your business needs.
But it's not uncommon for supply chains to become disconnected when built on a set of uncoordinated, legacy solutions. Integrating your technologies with your management system creates links among all departments in your organization, and you can do that with a custom industrial management solution that's built specifically for your business.
Current management systems and challenges
Cloud-based solutions have transformed the way we do business in the 21st century. However, many companies still use systems established decades ago to manage their supply chain. Legacy MRP systems from the 80s and 90s like IBM and Lawson are still run on localized servers with a dedicated employee to overlook them.
Even as new cloud-based systems and SaaS were added on, everything still must be run through this localized system. This creates a single point of failure in the supply chain.
A Gartner survey revealed that 47% of companies have continued to increase their investment in IoT since 2020. These add-ons, including SaaS implementations, have continued to gain popularity in recent times. As companies increase their reliance on cloud solutions, they need an industrial management system that supports these tools rather than limiting them.
Custom industrial management systems
Supply chain modernization isn't anything new. In fact, I hold a patent for wirelessly tracking parts in manufacturing and service facilities from back in 2015. Unfortunately, while IoT and cloud solutions gain traction, most businesses stay tethered to their legacy management systems.
The way that I see it, building custom integrations to tie together the legacy MRP system with new cloud solutions is like putting a bandaid on a gunshot. Despite the slight improvements, there is still one single point of failure, which is a risky proposition for any business.
However, companies can't "switch to the cloud" overnight. Starting with small wins - custom integrations and adding some data to the cloud - is the start of a process companies need to go through. While custom cloud integrations are a bandaid, they can also act as a placeholder that generates communication and adoption of a more robust solution.
The investment of transferring all your company operations onto the cloud pays for itself, and quickly. Instead of spending hundreds of hours dealing with an antiquated system, you get to hire a few trained professionals to take your supply chain management to the next level.
How to digitally transform the supply chain
Many organizations struggle with adopting a change in the management system since their employees aren't trained or well-equipped to deal with a cloud-based integration. Creating a system that can withstand fluctuating markets and return consistent profits can seem like a daunting affair. Here are 3 simple steps to help you get started:
1.
Unite local files
The first step in digital transformation should be to understand where your files and resources currently reside and start bringing them together. Most likely, data and applications are spread out across multiple different local systems. They might even have different filing systems that are only understood by one specific employee who "owns" that task.
Without a central repository, it's impossible to prioritize and plan for digital transformation. So start by uniting the local files. Bring together files stored on different computers and put them in shared drives.
2.
Deploy a communication solution
My advice to managers who are looking to transform their supply chain is this— keep everyone on the same page as far as information sharing. Modernizing communications is the first step to customizing your management system.
Similar to file storage, company communication is most likely spread out across different forms. First, lay out where people are communicating. Text? Email? Lotus Notes?
If you were to select one form of communication, could your company transition to it without buying new hardware? Can you use Microsoft teams to send an internal email from a mobile phone instead of an email? Can you use Skype to do a conference call remotely instead of meeting in the office? With digital communication solutions like Microsoft Office Workspace, this has become relatively easier to achieve regardless of the size of the company.
3.
Skeuomorphism
A worker who is used to moving a piece of paper from one board to another should be able to see this process even in the digital format. If the new solution fails to mimic a familiar environment for the worker, they are likely to go back to the older workflows.
This is where skeuomorphism comes into play. It's the ideal way to customize your management system to best suit your business needs and help your employees feel comfortable in the transition. Your employees have experience working with your supply chain, and skeuomorphism is a way to help them use that knowledge and gain more control over newer UI.
In one digital transformation that we performed, we created a Kanban board to manage tickets. Instead of making the ticket look like a digital asset, we mimicked the piece of paper including the shadow the paper makes when hanging on the wall. This allowed the employee to perform the same task of moving the paper they do with the digital asset. The advantage is that unlike a physical piece of paper, the employee can do this action from anywhere and managers can review it from anywhere.
By prioritizing those who oversee your systems every day, you create an opportunity for them to improve their productivity while replacing any bulky, outdated systems.
4.
Stack new solutions on old ones
Once you have established a communication system for your supply chain, your employees will be able to make it a part of their daily workflow. Use this as the foundation for introducing newer systems to prevent overwhelming or confusing them.
Your first goal should be ensuring that everyone within the organization can access the new systems you introduce because otherwise, it's easy to revert to traditional frameworks. Instead, build on top of the communication system they are already comfortable with, and the transition to a digital management system will become easier.
Over time, as your company adapts to sharing information and resources the cloud will take shape on its own. You will realize that the information is just a channel away and fully updated with the latest information.
I hope with these insights, you were able to find some key takeaways to help in your journey to setting up a fully customized industrial management solution for the connected supply chain.