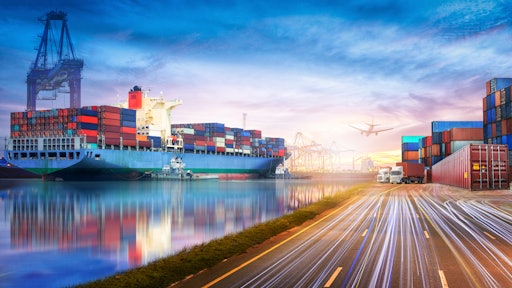 enanuchit/stock.adobe.com
A "trigger event" is often the driving factor behind notable, lasting change. These events can inspire change, whether it's an unforeseen disruption caused by external factors, like the pandemic, or a recurring event, like the start of a new year. However, simply relying on a specific date is not enough to ensure that change happens. For distributors, it's crucial to approach change thoughtfully and urgently to create the ideal conditions for positive transformation.
We've all made a New Year's Resolution at some point in our lives. Despite the appeal of starting fresh on January 1, resolutions run the risk of fizzling out if not tended to properly. Relying on a specific date as a trigger for action isn't necessarily the most "solid" rationale to initiate change. In fact, inertia may be the more likely outcome in these instances.
As summer turns to fall, it's a good time for distribution leaders to revisit their year-end strategy and prioritize their warehouse operations. By taking the time to assess and reprioritize now, they can end the current year on a high note and position themselves for an even stronger year ahead. Here are four things distributors should focus on to help them improve operations and achieve long-term success.
Organize and Optimize: Getting Your Warehouse in Order
Improving distribution center efficiency and productivity starts with organizing the warehouse floor. Cluttered aisles, disorganized inventory and discarded trash hinder the process of finding products. This creates bottlenecks for forklifts and makes putting stock away much more difficult.
Beyond tidying up, prioritize organizing the warehouse. Picking is a great place to start because it's generally the most labor-intensive and time-consuming task within a warehouse. Review layout and slotting strategies to minimize travel time and improve overall efficiency. You'd be surprised how relocating fast-moving items closer to the shipping area and implementing adaptable slotting strategies can eliminate wasted footsteps. A well-organized facility ensures employee safety, improves inventory management, and enhances customer service with faster turnaround times for receiving, put-away, picking and shipping processes. Clearing out the clutter and taking time to organize your warehouse makes it easier to identify other areas that need attention.
Leveraging Automation for Enhanced Operations and Order Fulfillment
Embracing technologies like robotics, autonomous vehicles and AI-powered solutions can help boost warehouse productivity and reduce manual labor. While some of these solutions require longer lead times to integrate into a new facility, many distributors have already implemented software with automation capabilities that can significantly increase throughput and accuracy while also lowering operational costs. One such solution that many warehouses and fulfillment centers currently use in their day-to-day operations is a warehouse management system (WMS). A WMS optimizes picking routes, manages picking tasks, and minimizes order processing time. In addition, the right WMS offers distributors control over transportation, fulfillment and inventory while collecting and presenting the data necessary to help optimize efficiency and cut costs. By leveraging real-time visibility, a WMS maximizes automation capabilities in the warehouse, allowing distributors to further streamline order processing and fulfillment.
Investing in Employee Wellbeing, Training and Engagement
Employee safety and well-being are critical priorities for distributors. Fatigue is increasingly becoming a serious workplace issue that heavily impacts the warehousing and distribution industry. While not easily discernible in the accounting books, fatigue impacts the bottom line for many distribution businesses. According to the National Safety Council, fatigue is estimated to cost employers about $136 billion a year in health-related lost productivity, and more than 70 million Americans suffer from a sleep disorder. A fatigued warehouse worker is more prone to taking shortcuts on the job, like climbing a rack to grab a box instead of using a ladder or forgetting to put on their high-vis safety vest. It's important to train your warehouse managers to actively look for signs of worker fatigue. Most obvious is finding an employee asleep at their workstation or in a seldom-picked zone of the warehouse. Other signs might include an employee making noticeable inventory mistakes during certain periods of the day or having inconsistent pick rates compared to historical averages. This is another area where a quality WMS can help supervisors better identify patterns and indicators of fatigue, allowing distributors to better support their workers.
Demand fluctuation and increasing labor constraints are forcing organizations to fine-tune their distribution centers to accommodate higher productivity requirements while maintaining a high quality of service. Investing in employee training programs enhances skills and operational knowledge. Workers who are healthy, happy, knowledgeable and engaged contribute to increased productivity and high-quality service.
Preparing for Seasonal Demand and Efficient Returns Management
In order to prepare for peak demand periods like the holiday season, it's important to start early by anticipating product demand, hiring seasonal workers if necessary and ensuring sufficient infrastructure and resources are in place. Building strong relationships with suppliers and shipping carriers will ensure smooth inbound and outbound logistics, such as negotiating better shipping rates and delivery schedules. A WMS with an integrated manifest and shipping system can simplify warehouse shipping, route management and package tracking. Implementing a seamless multi-carrier shipping solution ensures you get products to customers securely, quickly, and affordably while also prioritizing expedited deliveries, so they are picked, packed and shipped in the correct order. Getting orders to your customers on time goes a long way toward not seeing them show up again later as a return.
Let's not forget the importance of preparing for an increase in returns during the holiday season. It's an ideal time to implement a streamlined returns process to quickly restock, discard or send returned items back to the vendor, which helps minimize their impact on overall operations. Identifying new efficiencies to improve your returns process will pay dividends well into the future, so why not act now?
Perhaps New Year's resolutions are for dreamers, but those who think about executing positive change and approach it methodically stands to gain a competitive edge. Opportunity is ripe for those distributors who can prioritize and execute upon these tips to address and overcome key pain points. Seize today's opportunity to better understand your warehouse operations and take bold action to address those issues. Distributors with the ability to recognize weaknesses and areas for improvement now will put their business on a trajectory for a strong finish this year and the right path for another year of continued success.