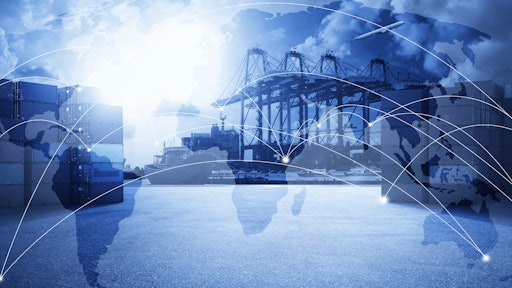 jamesteohart/stock.adobe.com
The transportation and logistics industry has evolved from gathering information primarily on clipboards to implementing digital operations in a remarkably short period of time. It has been less than five years since the U.S. Federal Motor Carrier Safety Administration's final mandate of electronic logging devices (ELD) for all commercial motor vehicles. The rise of ELDs, and the Internet of Things more broadly, symbolize the industry's rapidly changing digital landscape.
The increasing amounts of data generated across supply chains offers a real opportunity to create front-end benefits, from more efficient fleet operations, decision-making and improved customer satisfaction. But to achieve front-end gains in fleet operations, the industry must take a deep look at back-end technologies and what's needed from an information technology perspective.
The amount of data, and scope of information, produced across the supply chain has grown exponentially. Data generation is becoming ubiquitous, and its usage is critical for efficient fleet operations – from the tracking of inbound materials and warehouse assets in the first mile to fleet telematics systems used to optimize the middle mile and the demand for accurate estimated times of arrival (ETAs) for the last mile.
It comes as no surprise that industry analysts estimate the supply chain analytics market will grow from USD 7.97 billion in 2022 and reach USD 41.36 billion by 2032.
The Role of Cloud-Based Solutions Across the Supply Chain
Supply chain visibility is extremely data intensive. It requires the orchestration of hardware, software and computer processing on-premises, in the cloud or at the edge (be it a smartphone or connected vehicle). It requires companies and their technology providers to build systems that ingest, clean and conflate volumes of data from numerous sources with an eye on efficiency and cost.
Cloud-based solutions are at the foundation of the applications and services that increase supply chain visibility. Various components run most effectively in the cloud because of the benefits of on-demand data access and storage, flexible application building and the delivery of information (often in real-time) to multiple-users across various devices.
Immediate Benefits of Cloud-Based Solutions
The sheer amount of data inputs, and bespoke outputs, make cloud-based solutions much more valuable for companies looking to gain visibility across their supply chains. This includes lower CAPEX and less IT spending on systems maintenance. Cloud-based solutions deliver high availability, flexibility in terms of scaling up or down depending on needs, IT security, A/B testing and more.
Cloud-based solutions are optimal for cleaning up duplicate and unstructured data derived from multiple sources and delivering each end-user with their own bespoke dataset. For example, historic and planning data gets compared with real-time asset and vehicle tracking information to enable predicted arrival times to be established. The result helps warehouse teams schedule labor and handle expected deliveries while 3/4PL companies leverage location-based geofences to identify when a vehicle is 30, 60 or 90 minutes away from destination.
Fleet routing applications, the backbone of supply chain visibility, are well suited to be hosted in cloud environments. Fleet routing can be optimized for time and cost based on an array of variables that include information on real-time traffic conditions, along with constraints such as bridge heights, weight restrictions, road widths, time of day access, and increasingly low emission zones. Collectively, this information can be used alongside customer service level agreements and performance metrics to establish the optimum route to meet all these criteria.
Today, supply chain visibility increasingly goes together with a company's efforts to achieve more sustainable operations. With cloud-based solutions it is possible to deliver dynamic insights to drivers on the routes that take up the least amount of fuel, while considering which vehicle is best for the distance, payload and built environment. Fleet operators can also lean on cloud-based solutions to calculate and reduce total emissions by vehicle and engine type.
According to the International Energy Agency, trucks and buses are responsible for more than 35% of direct CO2 emissions from road transportation. The Agency also found that applying digital solutions to truck operations and logistics could reduce road freight's energy use by 20-25%.
Successful Implementation of Cloud-Based Solutions
The transportation and logistics industry must not look at on-premises and cloud-based solutions as a binary choice. By using hybrid environments which incorporate cloud-based solutions supply chain managers can combine these capabilities to strengthen current processes. These new information systems underline the importance of cohesive, organization-wide implementation and equipping all members of the organization with the tools and training needed to understand and utilize any new solution.
At the same time, each company seeking greater supply chain visibility, fleet routing and, ultimately, sustainability, must understand where they are on their information technology journey and the sophistication of their back-end systems. A logistics capability and maturity model can help companies understand where they can achieve incremental progress across a variety of domains. This includes technology auditing and working toward higher progressions, such as conventional capabilities to log driver hours, mileage and costs to developing customer service level agreements on ETAs and carbon emissions to increasing the use of AI for performance-based decision making.
Digital transformation is in full swing across the transportation and logistics industry, and the amount of data produced in modern supply chains provides enormous opportunities to deliver end-customer satisfaction. But more efficient operations require more efficient IT infrastructure, from the front-to-back-end, and from edge devices to the cloud.