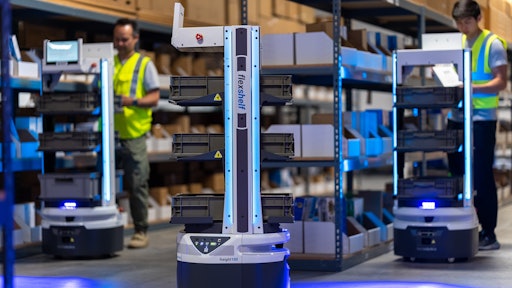 Zebra Technologies
Zebra Technologies Corporation introduced what is said to be the industry's most comprehensive picking solution to help businesses improve their fulfillment operations. The fulfillment solution consists of three new autonomous mobile robots (AMRs) - FlexShelf, FlexShelf Guide and RollerTop Guide - and a new FetchCore fulfillment software package for order or batch picking, stemming from its recent acquisition of Fetch Robotics.
From BusinessWire:
FetchCore enterprise cloud software allows companies to quickly modify workflows on-demand for warehouse operations. It enables the dynamic orchestration of labor and robots by integrating with leading warehouse management systems (WMS) and warehouse execution systems (WES) to optimize order, batch, case and pallet picking workflows. 

Powered by the enhanced fulfillment software package in FetchCore, the three new AMRs expand upon Fetch's existing case picking capabilities while providing several unique advantages over existing each picking AMRs in the market.

Built on the Fetch Freight100 platform, the FlexShelf and FlexShelf Guide provide flexible configurations for bin sizing and spacing, which expands the types of items that can be picked using AMRs.
Businesses deploying the RollerTop Guide AMR can integrate each picking workflows with existing fixed conveyance, sortation and automated storage and retrieval systems (AS/RS).