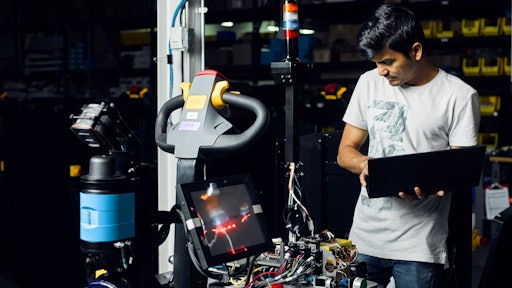 Vecna
Eriez Taps Long-Term Employee for International VP
20-year veteran of Eriez, Jaisen Kohmuench, is stepping up into the international vice president position, promoted from his previous position of senior director of Asia-Pacific operations and strategy. Previously he was responsible for the company's subsidiaries in China, Japan and Australia but will now focus on developing global policies and strategies for Eriez.
Vecna Robotics is hoping to capitalize on the growing demand for robotics and autonomy with its new vice president of autonomy hire, Denis Lussault. He will oversee the division to help meet demand and develop solutions to simplify customer workflows.
Previously, Lussault held the vice president position of the Americas for Balyo.
Toyota Material Handling Solutions Brings on New VP
Toyota Material Handling Solutions has brought on David LaDue as vice president of sales, marketing and CSSR, responsible for account managers, new equipment sales coordinators, marketing CSSR, Kalmar equipment sales and systems sales. He has previously worked as vice president of dealer sales in North America for Hyster-Yale Group and has decades of experience in material handling.
Siemens Mobility Prepares for Canadian Growth with New CEO
Siemens Mobility has appointed Yves Desjardins-Siciliano as the CEO of the Canada division of Siemens Mobility Limited to build presence in the market. Previously, Desjardins-Siciliano was the president and CEO of VIA Rail Canada, managing more than 3,300 employees and moving almost 5 million passengers a year. He has also held leadership roles at organizations like IBM, the Government of Canada and bell Mobility.
Desjardins-Sciliano believes that the Canadian transportation infrastructure will undergo a major modernization effort soon, where Siemens Mobility can position itself to help.
BEUMER Appoints New CEO for North America
Joe Dzierzawski is stepping into the CEO position of BEUMER Corporation, responsible for the group's business in North America. He comes from Hatch Metals & Minerals where he was a senior member of the Hatch metals team and global director of technology and business development in addition to his time as president and CEO of SMS USA.
Companies in this article