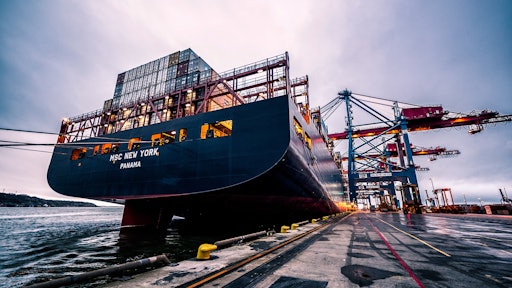 Albin Berlin from Pexels
Seaport and economic development expert Jonathan Daniels will take over as chief executive and port director at Port Everglades. Daniels comes to Port Everglades from the Port of Gulfport, Mississippi where he has been the executive director since 2013. He has also served as the executive director of the Port of Oswego in New York from 2007-2013, managing director of the Port of Greater Baton Rouge and port director for the Eastport Port Authority in Maine.
WSP Gains New Maritime Leader
Kosal Krishnan has been named a senior vice president and national maritime leader of WSP USA. As a senior vice president, Krishnan will work with United States and international port authorities, marine terminal operators, the U.S. Navy, local municipalities, shipyards and construction contractors, overseeing the project delivery team to support the full life cycle of their maritime projects through successful delivery. Prior to joining WSP, Krishnan served as Southern California operations manager and West region maritime leader for an international engineering firm.
Crowley Logistics Has New VP of Commercial Operations
To better serve customers with integrated supply chain solutions across the globe, Crowley Logistics announced that it has promoted Bob Goldenberg to vice president of commercial operations.
In this new position, Goldenberg will report to Steve Collar, Crowley's senior vice president and general manager, logistics, and will continue to be based in the company's Miami office. He will be responsible for providing strategic direction and oversight to the entire commercial logistics team, including United States and offshore locations.
Goldenberg joined Crowley as vice president, global development, in 2019 following a successful 30-year career with Econocaribe.
BEUMER Announces New President and CEO (warehouse)
Joseph Dzierzawski has been named president and CEO of BEUMER Corporation. He will be fully responsible for the business of BEUMER Group in the North American market in alignment with BEUMER Group business objectives, strategy, and key pursuits. He joins BEUMER from Hatch Metals & Minerals group where, as a senior member of the Hatch metals team, he served as global director, technology & business development.
Evans Welcomes Quality Systems Manager
Evans Distribution Systems has welcomed Doug Ashley, its new quality systems manager to the team. In his role, Ashley will oversee quality for all divisions implementing process improvements and driving continuous improvement initiatives. He will also be responsible for conducting internal audits in compliance with Evans' ISO 9001:2015 certification.
Prior to Evans, Ashley spent 13 years at United States Steel Corporation in a variety of quality roles. He led several continuous improvement projects that increased product quality and application.
Companies in this article