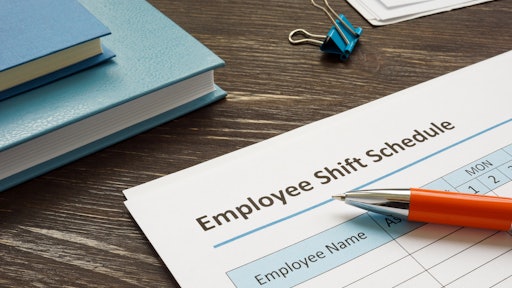 VitaliiVodolazskyi/stock.adobe.com
In the supply chain industry, whether we tackle transportation, distribution, manufacturing or product sourcing, shift work is not optional but necessary.
Every supply chain strategy is different and varies according to the business model, industry, etc. However, in terms of shift work conditions, they should all aim toward achieving a more agile workplace with happier staff and optimized processes.
According to Deputy's report, 86% of shift workers said they can clearly identify ways to improve their work environment, which means there's space for changes and your staff is aware of it.
So, what can you do to improve shift work conditions in the supply chain and boost your levels of employee productivity and engagement?
1. Consistent shift patterns
Unpredictable and irregular shift schedules without any pattern or consistency can be very straining to the worker, regardless of the industry. It can result in eating difficulties, disrupt the sleep cycle, and increase stress and dissatisfaction levels.
Additionally, some employees perform better in the morning shift, while others prefer the late shifts.
As an HR, logistics, or supply chain manager, your job is to keep all shifts covered with qualified employees. Who covers these shifts can be left up to the employees. When designing the perfect shift schedule, you have to keep your employees' preferences in mind and match them to the job tasks.
Last but not least, you'll need to ensure that everyone has enough paid time off or PTO. This enables the right work/life balance for your employees and prevents possible burnout.
2. Allow scheduling flexibility
Now that we know the importance of consistency in shift scheduling, it's worth noting that flexibility in terms of letting employees organize their work hours around their private lives (instead of the other way around) also matters.
After the Covid-19 situation, supply chain businesses globally started struggling to attract and retain new staff. Additionally, predicting workforce vs. demand and always having the right number of staff at hand can be difficult. To combat this, worker flexibility is essential.
There are many great tools out there that you can implement to allow your staff to swap shifts, stay informed on the go or tap into a talent pool of qualified supply chain workers for periods of increased output and demand.
3. Automate and digitize processes
With the help of Artificial intelligence, Machine Learning, and Big Data, we can automate and digitize many time-consuming tasks that were done manually in the past. This is also important for shift workers since it will free them from trivial and repetitive tasks and allow them to focus on more challenging ones instead.
When we talk about using technology to digitize or automate certain processes, here's what we have in mind:
Implement a smart warehousing software

Comparing supplier, product, competitor, or pricing data to make informed decisions

Optimize stock levels and schedule enough workforce with sales predictions based on historical data

Sync PoS and inventory storage or warehousing system to always keep an eye on stock levels
There are many operations and workflows you can optimize and automate in the supply chain. Choose what makes sense to you, budget- and value-wise. The end goal is to overcome logistics problems and make all of the operations more efficient.
4. Boost employee engagement
Employee engagement is crucial in any work environment, but especially with shift work schedules. Staff members that work during the day might mingle and get in touch with more people.
However, for the night shift workers or those that cover less busy shifts, it can quickly get lonely, boring or unstimulating. They might feel like they're missing out on many company events, staff meetings or important decisions. So, it doesn't come as a surprise when they lose motivation and engagement.
Here are some tips that can help you boost employee engagement in supply chain management:
Set clear goals for different job roles- employees need to work towards something to feel a sense of purpose, so setting specific and measurable objectives can be of great help

Provide learning and development opportunities- a sense of personal accomplishment and progress is important in a disruptive and constantly evolving field like supply chain management

Implement efficient communication cross-departments- especially important for large-scale supply chains with multiple departments across different locations (customer service, sales, warehousing, etc.)

Give recognition when necessary- when someone does a good job, acknowledge and reward their performance so that they continue working with productivity and reach their full potential.
Engaged employees are productive employees that stay with the company for years to come. And, with the recent supply chain worker shortages, retention becomes essential for success.
5. Regular health and wellbeing checkups
Did you know that over 50% of shift staff want more focus on employee wellbeing?
A good work/life balance is crucial for supply chain retention. Regular check-ins will allow you to keep an eye on your shift employees' physical and mental well-being, both being equally important for a successful and agile business.
Checkups to consider for employees are:
Pre-employment screenings

Annual physical checkup

Covid-19 screenings (if necessary or periodically)

Mental health screenings

Specific tests measuring occupational hazards
Lastly, don't forget that different job roles carry different risks, so you can adjust the checkups needed accordingly.
Key Takeaways
The center of your business should revolve around providing an exceptional customer experience.
The problem can arise when we stop to think of just how many parties and shift workers are involved from the moment of sourcing raw materials to the moment the end product is delivered to the buyer. Everyone involved needs to work with complete synchronicity and transparency to match the expected budget and timeline for the product to get manufactured, stored, sold, and delivered.
Now that you know the importance of great shift work conditions, it's time to start being proactive. Think of your business model and which of the above tactics would fit and make your operations more efficient.