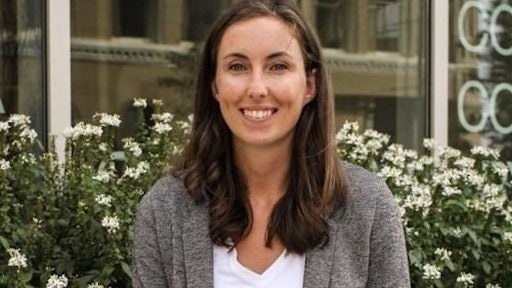 Tara Buchler, director of professional services at BluJay Solutions, is what you would classify as a triple threat. Armed with knowledge of transportation management systems, technology and the supply chain, Buchler continues to stand out among her peers as an industry leader, paving the way for the next generation of supply chain workers.
"If I step back and I look at transportation as a function in my early career, it was just a cost center. It wasn't glamorous - it was getting products to the customer," says Buchler. "I feel like that's really changed. Transportation and the broader supply chain is now recognized as a critical component in a company's strategy, especially with the rise of e-commerce and omni-channel distribution, and transportation is the final link in an organization's ability to deliver a memorable customer experience."
With Supply & Demand Chain Executive celebrating its 20-year anniversary, the editorial team has been watching and reporting how the industry has changed over the last two decades. One thing remains unchanged, though -- the supply chain and logistics industry thrives on meaningful and consistent leadership.
The annual Pros to Know award recognizes professionals for their accomplishments in leveraging the supply chain industry for competitive advantage. For the last 20 years, SDCE has honored these Provider, Practitioner and Provider Team Pros to Knows by highlighting their achievements. Now, we look back at some of the top Pros to Know over the years to see what they have been up to since they last received the award.
Since last winning the award in 2017, Buchler has been committed to providing implementation and consulting services to shippers and logistics providers to provide visibility into their transportation network, allowing them to furnish themselves with insight into the exact location of their freight, while harnessing the power of BluJay's TMS to highlight exceptions associated with potential or actual service failures.
"In 2017 our TMS was really a standalone application and was acquired by what is now BluJay Solutions. For me professionally, this was a great opportunity because our product has been integrated with many of the BluJay applications," says Buchler. "'In these three years, our TMS implementation practice and also YMS practice went to the next level by continuing the same methodology that we've always had, but really being able to expand it in a way that delivers not only our TMS but these other products that supplement what we're able to offer to our customer."
It has been an exciting challenge for Buchler. Though, that's what she believes is one of the best parts about the supply chain industry – finding solutions to pain points. Instead of viewing it as a problem, she views it as a challenge to overcome. She credits some of her mentors and former Pros to Know winners as well, David Landau, for helping her think creatively to find results.
"It's clear that everything is solvable through creativity and resourcefulness," explains Buchler. "It pushes us to be better in a way that's really forward thinking, and to do something that is strategic versus just tactical."
Mentoring is something that remains important to Buchler. She believes, that regardless of what sector you work in in the supply chain, that everyone is in it together. In her experience, mentoring – and reverse mentoring – helps leverage those around you to do better, but also be better.
Recently, BluJay started a women's network that serves as a smaller mentorship program. The program gives guidance on how to continue to work within the culture the company has and promotes the idea of learning and leveraging each other's strengths.
"This Women's Network has taken it down to an individual level. It's been able to help our group understand that if a mentee wants to grow in their career they need to evaluate where they need the most guidance, and what would be the most meaningful thing to take away from a mentorship. We're really taking a look at how we match that mentee with a mentor who is best suited to help them grow," says Buchler.
It doesn't matter that Buchler works in three different sectors that are typically male dominated. She isn't deemed any less than her male counterparts because she is a woman. In fact, her leadership style stands out among her peers because of her strengths and willingness to stand up for herself. She encourages young women entering the supply chain, transportation and technology industries to not be afraid to apply for new roles or speak up when in meetings because there is a power that comes with vulnerability.
"Sometimes when you are in the minority, and that can mean many things, but in my case, it's being a female, it can be hard to be vulnerable, and really put yourself out there and stand up for yourself or your ideas. BluJay's Women's Network is really focused on building the confidence to be able to have that vulnerability in conversations and make sure that we're being treated fairly in our careers, whether in everyday meetings or any larger environment that might be challenging," explains Buchler.
Companies in this article