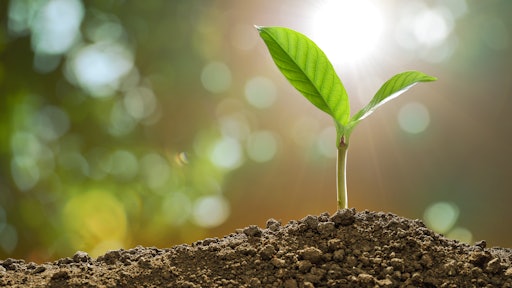 Getty Images
The Coronavirus disease (COVID-19) pandemic has put a whole new light on commodity management, especially agriculture supply chains. Food is essential for survival, so ensuring agriculture supply chains remain secure has taken center-stage. The agriculture industry is resilient and continues to maintain supply-to-shelf, but there are significant risks to the conventional mechanisms of food production and supply.
As business leaders respond on multiple fronts simultaneously to protect workers' safety while safeguarding operational viability, they must invest in digital transformation to secure long-term success.
Here's what agriculture leaders can do to reshape and redirect the course of their companies for a collaborative agriculture supply chain at large.
Enhanced transparency
There has been one overwhelmingly consistent theme from the COVID-19 crisis—most leaders weren't ready. Organizations quickly realized they lacked transparency into the potential impact to their supply chains from a global event like this. Conventional agriculture supply chains were not built to factor in disruption at scale. This has been tested as global lockdowns, labor shortages and logistical snags have wreaked havoc in supply chains.
As agriculture companies continue to rely on manual processes and siloed systems, visibility remains a challenge. This inability to view the entire business in real time makes it difficult for businesses to get an in-depth understanding of their vulnerabilities, strengths and compliance issues. Without real-time insight, agriculture companies cannot pivot quickly with market shifts or supply chain disruptions.
But, times are changing.
Cargill implemented digital signatures to manage critical paperwork at each check point of the agriculture supply chain, starting from the farm to its multiple stakeholders. Post-COVID-19, over 97% of their documentation is enabled remotely through digital signatures today, allowing it to benefit from improved visibility and general accountability.
Supply chains built on a foundation cloud, mobile, connected data and advanced analytics will enable businesses to benefit from deep insights at a speed that can never be achieved using traditional or manual processes. So, build a digital nerve center for enhanced transparency.
Enhanced collaboration
The supply chain disruptions caused by COVID-19 were further amplified by the lack of digital connection between companies, their suppliers and their customers. Lack of digital connectivity has pushed many small suppliers to the verge of bankruptcy. And yet, there have been instances where direct farm-to-consumer marketplaces have thrived on the backbone of digital transformation. Clearly, new business models are emerging.
Sophisticated collaboration tools that provide end-to-end collaboration – from farmers to customers – enables all parties to have a single, shared view of data in near real time. This shared visibility improves both the cost and latency of information sharing, ultimately improving overall supply chain performance and inter-company interactions.
These tools enable participants to benefit from instant communication with trading partners. They can negotiate in real time and work through contracts and pricing instantly instead of waiting hours or days for return phone calls or emails.
Digital collaboration helps producers and aggregators manage supply and demand while tracking and authenticating sources, certifications, expiry dates and food standards, taking considerable pressure off traditional supply chains.
Enhanced adoption among users across the supply chain
People are at the center of digital transformation in any organization, and their ability to adopt transformation is key to successfully achieving it. Remote working adaptation has been a key test case for that.
Traders are no longer tied to their desks, and yet are more connected than ever before. Confronted with focusing on what matters – greater efficiency, continuity and quality – businesses are more motivated to reduce bureaucracy and cut out non-value add steps in the supply chain through remote and collaborative experiences.
When it comes to adoption, user interface matters. Cumbersome tech, unless made mandatory, doesn't always yield the best results from employees and often leads to loss of valuable time, defeating all purpose of digitalization. For example, contract management is a fundamental module across all commodity trading and risk management systems. But, it takes 30 minutes on average for a trader to populate all the boxes in a contract. If these contracts were driven by natural language processing algorithms that can automatically populate the contracts based on voice commands, the degree of efficiency businesses can gain would be significant.
Digital transformation isn't always about technology. According to Gartner, internal resistance to change is one of the biggest hurdles in digital transformation. For true adoption, businesses need to rely on 'insiders' – employees who at the end of the day are the ones who will use the tools and should know exactly how to utilize them to their full extent. In doing so they will be able to benefit from advanced features and unlock innovative new ideas and processes. There is no doubt that businesses will do well to identify super users within the organization and train them to use the collaboration tools effectively.
The future of commodity management
The importance of digitization for commodity management has been vividly highlighted with the Coronavirus outbreak. Governments and businesses need to look at the pandemic as a unique opportunity to identify vulnerabilities in logistics and production chains and prioritize digital transformation to build a resilient 21st century food system.
The cloud offers a good option to hasten digital transformation initiatives because of its extensibility. The provision of microservices on a native cloud platform provides a way to quickly adapt to unique and complex supply chain operations and respond faster to disruptions as they occur.
The benefits are there, the technology is there, the return on investment is there – what are we waiting for?