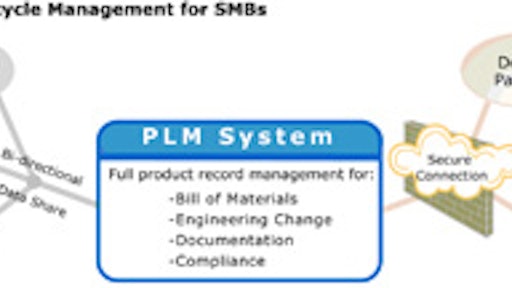 Quite often a small- or medium-sized business (SMB) that is looking to gain a competitive advantage within its supply chain will do so by improving its products and streamlining operations. Decision makers often look toward product design technology such as product lifecycle management (PLM) to support these changes. By implementing a product lifecycle management system, companies can simplify and shorten each phase of the product development process. Selecting new technology is a challenge for any organization but can be especially difficult for the SMB, since most software (particularly PLM software) is designed to meet the needs of a large enterprise.
To begin the selection process the SMB first needs to understand what the PLM system should accomplish for its organization. PLM can provide key functionality to streamline each phase of a product's lifecycle, from product conception and design to manufacturing and support, while improving communication across both internal and external constituencies.
Case in Point
Fabric7 Systems, which designs and builds enterprise servers that integrate computer and networking technologies into a dynamic fabric of information technology resources for the core of the datacenter, implemented a PLM system to accelerate new product introduction, decrease product costs and reduce waste and rework.
Once a company determines that PLM software will address the challenges within its organization, the question then becomes which PLM software is best suited for the company. For Fabric7 Systems, the company needed a PLM system that would alleviate the challenges of its start-up environment of heavy workloads and limited resources. "We were a small team wearing many different hats," stated Wayne Firsty, vice president, Manufacturing Operations for Fabric7. "Putting a discipline in place to establish a single point of data for engineering releases and product builds across our internal and external sites was a crucial process."
Typically, since the SMB operates with a smaller cash flow, develops fewer products, and has a smaller customer and supplier base as compared to a large enterprise, the PLM system needs to be tailored for these distinct requirements. The increasing emphasis on outsourcing has dramatically changed the operational landscape of the SMB and must be a key consideration when choosing the correct PLM system. The SMB must select a solution that allows secure yet easy access to product data for its outsourcing partners. For Fabric7 Systems, a method to relieve the communication obstacle with its manufacturing partner was imperative. Since Fabric7 outsources its manufacturing to a contract manufacturer (CM) the company needed to ensure the CM no longer received inaccurate bills of materials (BOMs) and outdated product data that resulted in lengthy new product turnaround time.
Too often the SMB will select a PLM system that includes broad functionality but fails to drill down into the daily challenges of engineers and developers, and also embrace the need to share product data outside the SMB's four walls. Fabric7 Systems knew this challenge all too well, which is why the company sought out and purchased a solution that would allow its engineers and developers to manage product data in a single, secure location and could be easily accessed by multiple sites within Fabric7 and with external vendors and partners, particularly their CM. "The ability to manage our detailed BOMs, all engineering changes and vault documents in a single repository was a necessity," said Firsty.
PLM solutions designed for the large enterprise often overlook the need to automate tasks and address challenges that the SMB faces early in the development/design process, such as with new part requests and design component selection. The PLM solution should also provide an environment that understands the dynamics of the prototyping phase. For the smaller business looking to improve products, the process must begin with the engineers who face issues with data management, obtaining the best design elements and easily accessing essential product data to ensure specifications are met. In order to manage complex hardware design and to share reliable information with its manufacturing partners, Fabric7 Systems selected a PLM product that could manage all of its BOMs, engineering changes and documentation, as well as offer secure access for its internal and external teams. "We now have an environment to capture engineering changes in a disciplined manner and ensure our CM has access to clean documentation," stated Firsty.
Another key factor to consider in today's compliance-driven market is the ability of the PLM solution to inherently support evolving regulatory compliance and quality standards. Compliance with the Restriction of Hazardous Substances (RoHS) mandate has become a major concern for all manufacturers shipping products into restricted regions. The impact is more profound on smaller manufacturers, who generally do not have the same amount of resources to dedicate to sourcing all of the required compliance data, and whose product costs will have a greater impact due to the volume and margins on which the SMB operates. Small companies need to rely on a PLM solution that can store complete part classification information and vendor-supplied documentation, provide full product analysis features, and allow users to easily extract the necessary data during audits.
A common misconception is that large PLM vendors with monolithic software systems are the only vendors that can address all product development needs. In reality, many of these large systems, which have been designed with large enterprises such as automobile manufacturers in mind, include functionality that is irrelevant to the development needs of a small organization. Further, the SMB, with its limited cash flow, is paying for functionality that will likely never apply to its product design process. "In our search for a PLM solution, we found that many offerings were too complex for the quick implementation and training required by a fast-paced company like Fabric7," added Firsty.
SMBs should be equally attentive when considering an on-demand or hosted PLM solution. Although on-demand solutions are an appealing option due to the "instant on" capability and attractive price point, the SMB should consider the functionality, scalability and security issues associated with on-demand solutions. Fabric7 Systems researched on-demand PLM solutions and found that they presented security risks to which the company did not want to expose its sensitive intellectual property.
According to an AMR report "Midmarket Manufacturing Needs PLM" by Kevin O'Marah, only 8 percent of mid-market companies now have a PLM system from a large enterprise software vendor. What this means is that many smaller companies are beginning to look toward implementing PLM software designed for their market segment.
Many large PLM and ERP vendors are attempting to "scale down" their products to address the PLM needs of the SMB. Unfortunately, because these systems are typically built on legacy foundations, their heredity does not allow them to adapt easily to the evolving needs of the smaller organization. Moreover, these systems still require lengthy (and costly) implementation phases. For Fabric7 Systems, constraints on time and resources demanded a PLM system that was easy-to-use, quick to implement and required a short learning curve. As a result of limited IT staff, they sought a PLM solution built on the Microsoft SQL Server platform for easy and cost-effective maintenance. "We require that our I/S solutions are best of breed and integrate with SQL, which is less cumbersome and expensive than Oracle," continued Firsty.
A flexible solution that can easily integrate with a small company's existing environments is essential. Most large vendors cannot share data "out-of-the-box" with the engineering tools and/or business systems that are already in place. This capability typically requires an additional product or consulting purchase that increases the acquisition price for the SMB.
Implementation time and costs are critical factors for the SMB to consider when selecting a PLM system. SMBs cannot afford to reassign their valuable resources to long PLM implementation projects. Most software designed for the large enterprises have considerably lengthy implementation processes of more than six months. Alternatively, software designed for the SMB has a quicker implementation process and can have the company up and running within days or weeks, depending upon the vendor and level of integration with other systems. Quick training and implementation time allowed Fabric7 engineers to continue designing product with minimal interruption in their work. "We selected a very intuitive PLM system that is easy to use and learn — new users were up and running with less than 30 minutes of training," continued Firsty.
SMBs often have a competitive advantage over their larger competitors when it comes to customer support and responsiveness. They can often react quicker to the evolving needs of their customers and target market, with intimate support and new or enhanced products. This should also be an important consideration for the SMB when choosing a PLM system. SMBs should consider such purchases to be a "partnership" with the vendor. For the SMB, a PLM system needs to be easy to use, have a low total cost of ownership (TCO) and be from a vendor who is dedicated to the success of that SMB.
Finally, companies frequently overlook the importance of employee buy-in when selecting a new PLM application. If it is necessary for employees to learn an encyclopedia of information before using the software there will be more pushback from staff, and improving the product development process will be a greater challenge. In order to see a quicker return on investment (ROI) employees need a user-friendly PLM tool that requires limited ramp-up-time. Within a smaller business employees are expected to take on multiple functions, so it is likely they will need to understand many aspects of the software. If a software is easy to learn and easy to use on a daily basis companies will see a greater and quicker transformation across the development process.
Selecting a PLM system can be a challenge if a company is not aware of the options available within the marketplace. But if an organization starts the process by understanding what the technology should address, and further understand the needs of its unique business and market segment, it can select a PLM tool that will allow the organization to develop products more efficiently. "Due to the efficient processes put in place via our PLM solution, Fabric7 has been able to develop and deliver more products in a timely fashion and grow sales without having to make any additions to personnel in either the hardware development or manufacturing operations functions," concluded Firsty.
About the Author: Chuck Cimalore, chief technology officer, Omnify Software, is an expert in business-ready PLM solutions and has helped original equipment manufacturers streamline development cycles, accelerate product innovation and improve bottom-line profitability. Cimalore can be reached at 978-988-3800 or [email protected].