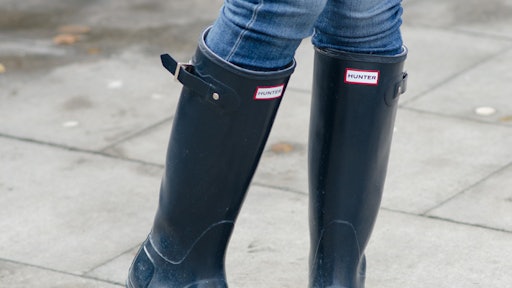 The Star Tribune has reported that Target has stopped production of Hunter tall Women's rain-boots after a series of production and quality problems.
Hunter and Target teamed up for a limited-time partnership where the brand would see it's infamous rain boots at a discounted cost.
This is the latest incident where Target has had problems with much-hyped collaborators. In 2015, that retailer partnered with Lilly Pulitzer and the quick sellouts and a crashed website greatly disappointed customers.
The rain boots were just one of the 300-plus items included in the tie-up. The boots, which usually retail for $150, were going to be mass-produced to be sold at Target for only $40. The retailer is currently working with another firm to recycle the boots.
When the products first went on sale, customers were unable to find them in store. One woman who managed to buy a pair of the tall rain-boots posted a picture on social media of them being uneven heights and crooked.
after a closer inspection I see why the tall women's hunter x target boots were recalled lolololol what do I do @Target @AskTarget? I'm not risking my life to go back to my target store again when they are actually released!!!! pic.twitter.com/ssazzyJnhH

— Dina Joanna (@dinajoanna) April 14, 2018
The Hunter Collect, also including backpacks, raincoats and other apparel, did not have delays or production issues and are still available for purchase. The products are expected to be available through June 14 if they aren't sold out before then.