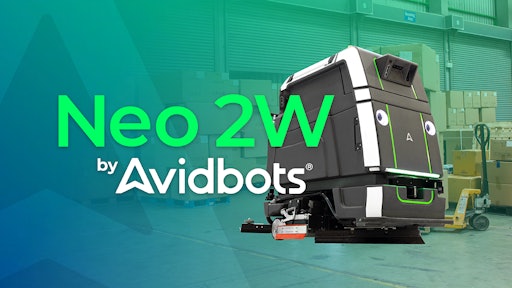 Avidbots
Avidbots launched Neo 2W, what is said to be the first cleaning robot designed specifically for warehouses and manufacturing environments.
"The release of Neo 2W comes at a timely moment when 3PL and manufacturing companies are looking for solutions that bring the highest operational efficiencies," says Faizan Sheikh, CEO and co-founder at Avidbots. "With the use of Neo 2W, companies are able to combat labor supply challenges and automate the time-consuming, labor intensive task of keeping their facilities clean."
From Avidbots:
Neo 2W is an exclusive artificial intelligence (AI) and hardware configuration that helps the robot clean without human intervention. Its Debris Driver, Bulk Navigator and Advanced Obstacle Detection (AOD) bring a unique set of features designed for industrial settings, combatting debris found on the warehouse floors, navigating around obstacles, both large and small, and optimizing the cleaning path of the warehouse floor for maximum performance.
The also robot includes industrial-strength, swappable batteries that deliver six hours of cleaning on a single charge.
Neo 2W also includes Home Base, which ensures the robot can start and return from any location, and other standard safety features, such as leading-edge 3D cameras, lasers and sensors to avoid collisions, and direction-indicating safety lighting.
"Neo 2W is the result of extensive involvement from customers based on their experiences using autonomous robots in warehouse settings. Avidbots gathered feedback, tested prototypes in real-life scenarios and utilized this data to deliver a truly purpose-built robot," says Sheikh. "Given this robust process, we're able to deliver even greater value to industrial customers. For instance, the focused solution delivers more cleaning productivity – up to 42,000 square feet per hour – due to Neo 2W's unique ability to maneuver in challenging warehouse environments."