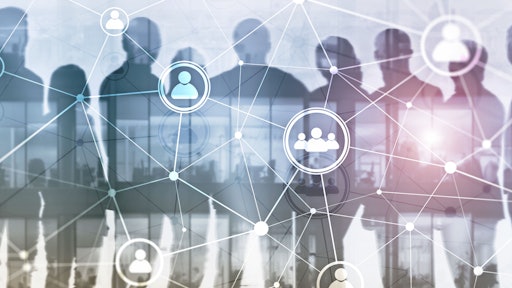 Funtap/stock.adobe.com
If labor shortages are keeping you up at night, you're not alone. Over the past few years, the supply-chain industry, including huge players like Amazon and Boeing, have struggled with a lack of workers.
Many companies see no end in sight. According to a survey by the National Association of Manufacturers (NAM), over 75% of manufacturing leaders believe attracting and retaining a quality workforce is a primary business challenge. Economic pressures like inflation and supply- chain disruptions on top of variables like seasonality, changing consumer trends, and an aging population all will continue to tighten labor.
Business Success is Directly Connected to Worker Experience
Success in such a volatile environment depends on how quickly your company can identify and adapt to opportunities. Lack of agility caused by manual approaches to labor compliance, managing costs, optimizing labor usage and avoiding unplanned expenses are certainly inhibitors to growth, but so are outdated ways of managing workers. Without fully optimizing your people, it's nearly impossible to meet your financial goals.
In the "old days" it was enough to pay just a little more to attract and retain workers, but that's no longer true. Today's employees – including "deskless workers" – expect more. They want not just decent pay, but a voice in decisions, opportunities for training and career growth, and a sense of purpose. And they want more flexibility and control over when they work, just like their corporate counterparts.
Remarkably, 80% of the global workforce and close to 100% of shift workers are deskless, but almost 60% of companies have little to no flexible technology solutions in place for them. Of the approximately 2.7 billion deskless workers, many feel overlooked. Between this perceived lack of attention and the economic stresses these workers are under, it's no wonder they feel underappreciated and burned out.
Implementing modern workforce technology represents the best opportunity for organizations to improve employee experience and make themselves an employer of choice who attracts and retains the workers they need for success in any economic environment. Those that win the competition for labor will increasingly adopt workplace technology that puts both deskless and desked staff at the center of the strategy.
Workforce Software Supports the Trend Toward Human Centricity
According to Gartner, employers who use human-centric work models where "employees are treated as people, not just resources," are "3.2 times more likely to experience high intent to stay and 3.1 times more likely to see low levels of fatigue." In addition, Gartner predicts that, by 2025, "80% of large enterprises with hourly paid workers will have invested in workforce management solutions to support employee experience and/or digital workplace initiatives."
Modern workforce management solutions are a next-gen technology that prioritize employee experience. These systems play a critical role in helping enterprise companies and supply chain leaders be more agile and responsive in the face of variable demand, better meet the needs of workers and make traditional operational and human resource processes more efficient. Modern workforce management solutions also help managers spend more time on strategic tasks, like improving warehouse and distribution center operations, which is necessary for the smooth, on-time flow of goods.
Using intelligent automation and consumer-grade features, modern workforce management meets the needs of employees and employers no matter where and when work happens. These systems integrate into the flow of work to improve employee effectiveness and optimization. They also provide easy accessibility through mobile devices to better align with the ways new generations of employees like to work.
Modern workforce technology reinforces the trend toward human-centric models by enabling companies to:
Offer Scheduling Flexibility
Implementing technology that gives staff a larger voice in when and how much they work is a major step toward a more engaging experience. Workforce technology builds in scheduling flexibility while allowing supply chain managers to ensure optimal coverage, monitor for fatigue and comply with union agreements, company policies, and regulations.
Scheduling flexibility makes a company an employer of choice that the next generation of employees' demand. It also expands the range of potential candidates who are willing to work and draws in talent an employer might not have found otherwise.
Engage in Real-time Communications
With a strong tech platform rooted in a consumer-grade experience, employees and managers can connect through real-time communications that are integrated into the flow of work. This capability increases scheduling agility, reduces overtime, mitigates burnout and makes accessing information in the moment easier. In addition, real-time feedback loops give workers a chance to be heard and contribute to the organization's success.
Modern workforce systems enable easy access to resources like company announcements, work guides and development materials. They allow employees to stay up to date on important company news. And they deliver the training and information that employees need as they are working, which saves them from having to search for information, guess as to the correct way of performing a task, stay after their shifts to sort through updates in the staff room or attend training on days off.
Support Career Development, Training and Upskilling
Newer generations of employees are eager to learn new skills but tend to do so differently than prior generations of workers. For example, younger workers tend to prefer "micro training" in the form of video snippets to hours of classroom training. Workforce management software allows companies to offer dynamic content, send reminders about certifications or even automate training reminders based on work employees are scheduled to do.
Modern workforce management software also allows businesses to easily identify workers who are suited for cross-training opportunities, support on-the-job learning by pairing new joiners with veteran workers and build a multi-skilled workforce where employees can step in quickly as things change.
Optimize Labor
Some companies still use manual methods and calling trees to fill gaps in scheduling shifts. These outdated approaches create challenges in planning and managing large groups of employees, often at a significant cost to the employer. Using workforce technology, supply chain managers can leverage intelligent use of labor by optimizing staffing levels based on criteria like lowest cost even when regulatory or union rules govern decisions. Without automation, many organizations incur additional labor costs and expose themselves to risks associated with non-compliance.
Workforce technologies allow businesses to source the right people, with the right skills, at the right time, matching labor supply with the actual labor needed to meet current demand. This helps them avoid costly and unnecessary overtime when actual work does not align with planned work and staff assigned.
Modernization One Step at a Time
A well-cared-for worker is a productive one. Engaged employees who feel valued do better work, take fewer days of unplanned leave and are more likely to feel a sense of loyalty. While the long-term goal is to implement capabilities that make your organization an employer of choice, that doesn't happen overnight.
Modern workforce technologies allow you to change processes incrementally. For example, you could start by digitizing scheduling, add PTO management and labor optimization capabilities later, and finally, incorporate features like employee feedback loops and scheduling flexibility.
Whatever your strategy, modern workforce management systems let you deploy a human-centric approach that prioritizes employee experience and, in doing so, allow your organization to remain competitive and grow even in the most volatile of market conditions.