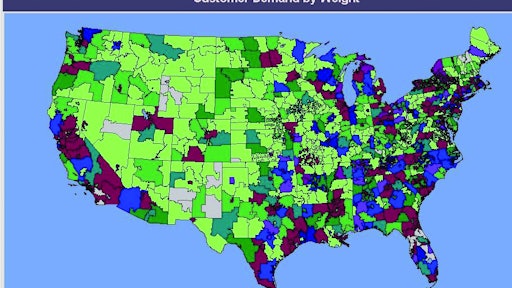 INSIGHT's strategic transportation sourcing tool, INSIGHT Bid Analyzer (IBA), enables such a collaborative approach to transportation procurement. Combining the communication effectiveness of the Internet with optimization technology, IBA allows shippers to purchase transportation services in the most efficient, cost effective manner. Instead of being a burdensome operational detail, transportation procurement takes on the role of an important tactical planning process that is consistent with the overall supply chain strategy.
The processes and tools help do the following:
Reduce labor, time, and costs associated with conducting bids
Utilize transportation assets in the most efficient manner possible
Reduce uncertainty in the bidding process, thus eliminating the incentive for carriers to inflate rates
By offering carriers a detailed, holistic view of your entire network, INSIGHT enables the carriers to employ flexible bidding strategies that accurately reflect their operational capabilities and capacities. IBA also utilizes a method known as a combined value auction, a newer, more effective way to format and analyze bids. INSIGHTs online distribution and rate collection tool allows carriers to combine multiple freight lanes of a shipper into packages or bundles of lanes that identify the combined value of the lanes to the carrier. The result is a more realistic and actionable pricing proposal from the carrier.
INSIGHT Bid Analyzer then utilizes advanced optimization models to support the decision making process. Scenarios can be developed by testing multiple transportation strategies where the alternatives for mode, equipment size, transit time, and volume committed to single or multiple carriers are balanced to find the best possible solution for the network. Robust sensitivity analysis allows the shipper to identify the constraints on the network and how changes in transportation strategy can potentially yield sizable savings. Most importantly, linking transportation procurement with network design ensures that tactical transportation decisions are consistent with the shippers overall supply chain strategy.
Request More Information
Fill out the form below to request more information about
INSIGHT Bid Analyzer