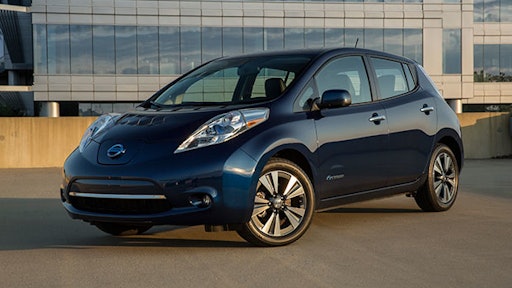 Nissan Motor Co. is selling its battery business to Chinese private equity firm GSR Capital for about $1 billion, a person with knowledge of the matter tells Bloomberg, as the Japanese carmaker seeks ways to improve competitiveness of its Leaf electric cars while reining in costs.
The deal covers Nissan's battery subsidiary Automotive Energy Supply Corp., as well as manufacturing operations in Japan, the United States and U.K., Nissan said in a statement Tuesday, which didn't disclose financial terms. Assets sold to GSR also will include part of Nissan's Japanese battery development and engineering operations in Oppama, Atsugi and Zama.
The sale marks the end of Nissan's long search for a buyer for the battery unit, which was established jointly with NEC Corp. in 2007, more than three years ahead of the Leaf's introduction. Buying the business will allow GSR to take advantage of global automakers' pursuit of sales in China, the world's biggest electric-vehicle market. The Chinese government has required EV producers to choose from a list of approved battery vendors, all domestic makers, to receive subsidies.
To read the full original article, please click here.