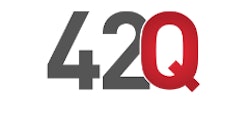 San Jose, CA—May 5, 2016—42Q, a provider of cloud manufacturing execution systems (MES), announced the immediate availability of the first fully cloud-based MES solution that offers competitive advantages in speed of deployment, operational agility and low total cost of ownership.
Higher expectations from customers for demand flexibility and product delivery are significant factors leading manufacturers to adopt smart manufacturing solutions. At the same time, the increasing maturity of cloud services provides an opportunity for businesses to leverage their transformative potential. The convergence of these trends is realized in the 42Q cloud MES solution. Developed with the latest technologies and expertise in manufacturing, the 42Q solution is relied upon by more than 30 of the largest technology companies in the Fortune 500. 42Q is deployed today in 15 countries.
42Q delivers a comprehensive and proven cloud MES solution, with unique on-demand pricing that eliminates capital expenditure, and allows customers to start small and scale. "Companies are ready to leverage cloud-based MES solutions. On-premises servers and software are no longer the best solution for today's smart factories," said Bob Eulau, CEO of 42Q. "At 42Q, we deliver cloud-based MES solutions that are easy to implement, flexible, scalable and cost-effective."
"With this offering, we provide manufacturers with the first fully featured, cloud-based MES solution that is different from anything the industry has seen. Whether you have a large multi-factory global operation or a single production line, we can help your business get the most from your manufacturing process in just weeks," added Srivats Ramaswami, CTO, 42Q.
Key features of 42Q include:
A cloud solution. As a cloud solution, setup and management of

42Q

does not require a team of IT personnel as software or server hardware is not needed. Businesses simply log in, configure and use their new, cloud-based MES solution.
Speed.

42Q

has robust and proven functionality ready to deploy immediately. Tracking, serialization, routing, work instructions and paperless travelers can be configured and used the same day.
On-demand pricing.

42Q's

pay-per-use subscription model gives businesses the flexibility to pay for what they need, when they need it.
"42Q, as a proven, high-speed MES running entirely in the cloud, has the potential to jumpstart industrial Internet of Things (IIoT) initiatives and disrupt the $2.8 billion discrete industries MES market," said Matt Littlefield, president of LNS Research. "More than 60 percent of manufacturers today already started working on Industry 4.0 or smart manufacturing. The technologies enabling these digital transformations include connectivity, cloud, big data analytics and application development."
42Q's team has years of experience with the architecture, development and implementation of advanced MES and manufacturing automation systems. Today, 42Q has more than 40 locations in the cloud across discrete manufacturing industries, including medical devices, automotive and defense.
Companies in this article