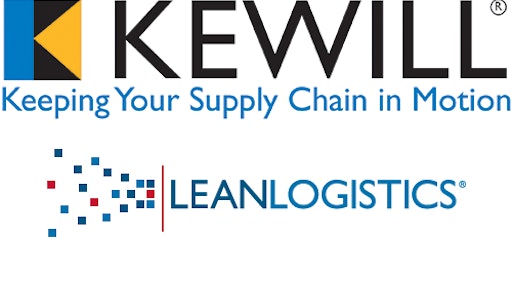 Manchester, UK and Chelmsford, MA—May 5, 2016—Kewill, a provider of supply chain execution software, announced agreement to purchase LeanLogistics from parent Brambles Limited. LeanLogistics is a global provider of transportation solutions for shippers, with hundreds of transportation management system (TMS) customers across the United States and Europe, and a supporting network of over 14,000 carriers. Its cloud-based platform reliably manages and optimizes over $10 billion of annualized freight spend for its customers.
"We are absolutely thrilled to have LeanLogistics join the Kewill team. Its solutions are feature-rich, highly scalable and managed by a skilled team, and we are excited to support the ongoing growth and investment in LeanLogistic's platform. We believe our global platform will help accelerate LeanLogistics' already impressive growth through leveraging our extensive European and Asian networks," said Doug Braun, CEO of Kewill.
In support, Dan Dershem, president and CEO of LeanLogistics, added, "Our tenure with Brambles provided us the opportunity to invest in our solution, expand into different countries and was a tremendous learning experience, but as we strive to deliver value for our customers every day, there is power in combining with a global supply chain execution company."
Kewill MOVE® is a comprehensive supply chain platform that enables shippers, carriers, freight forwarders and customs brokers to move product around the globe. "We see LeanTMS as a huge step forward for Kewill. New components, like LeanDex for freight rate indexing, have applicability across many of our 7,500 customers. And when you combine our two carrier networks, we will have by far the largest in North America," said Jim Hoefflin, president and COO of Kewill. The MOVE platform provides additional components currently unavailable in LeanTMS.
Chris Timmer, chief commercial officer of LeanLogistics, said, "We believe we can quickly integrate some key capabilities into LeanTMS, such as yard management, deficit rating, shipment tracking and settlement for rail, to more comprehensively serve the needs of our customers. We also see the opportunity to accelerate our parcel functionality, while being able to add entirely new customs and compliance capabilities."
LeanLogistics, located in Holland, Michigan will become Kewill's largest office. Doug Braun added, "We see an exciting culture and talent pool in, and around, Holland, Michigan, and view the team as a critical part of the combined organization. We fully intend to build around this office and leadership team in the coming months. We respect the LeanLogistics team's ability to drive the business forward and will look for ways to be supportive of its existing initiatives."